10 Trending Business Ideas for Custom Clothing Stores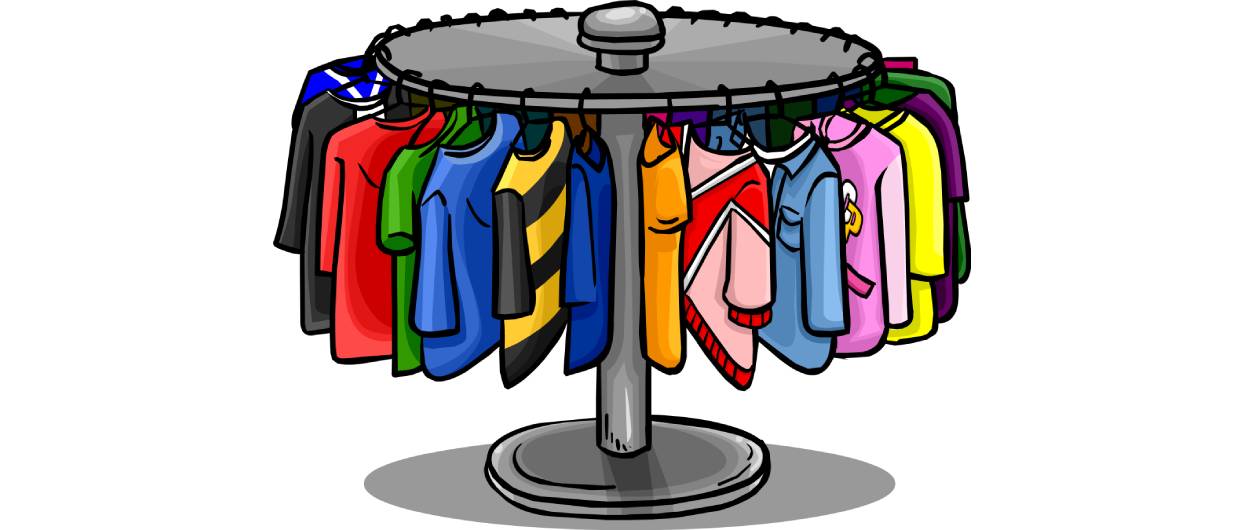 Fashion-retail, like many types of business, adapts to modern realities. In the fashion are the digitalization of purchases, a change in the process of interacting with the client, slow shopping, as well as Instagram design.
Mobile Clothing Furniture 
There is a series of mobile modular furniture for clothing boutiques. The series includes the frame island on wheels, similar to a small separate pavilion with clothes, a multifunctional Chair system, including places for sitting and laying out clothes, as well as minimalistic Racks hangers and separate blocks for sitting. The furniture is noteworthy in that it does not have a front and back, in fact, always turning to the buyer's face. All blocks have the same style and can be arranged in combination with each other.
Clothing bookstore 
Once the Saint-Germain-des-Prés district was the cultural center of Paris, where there were many studios and bookstores, and poets and writers gathered in the cafe. But with the advent of digital technology, books have disappeared. Therefore this thought can again increase the value of books for so many of us. In this way, there can be an entire book store along with a clothing boutique that can promote your brand as well as book-reading habits. Mannequins with fashionable clothes flaunted against the background of bookshelves from floor to ceiling high. On the shelves, thousands of volumes of contemporary authors and classics of different literature should be exhibited, and to attract customers rooms were made where you can read a book with a cup of coffee. The idea can be applied all around the world.
Related: – Equip Your Online T-Shirt Store with Right Software and Increase Customer
Smart stands with the ability to see likes 
This idea is highly recommended for places where technology has evolved to the next level. In this sort of store, clothes should be hanged in different columns with tablet PCs attached at the end of the row asking for your feedback about how much would you rather rate the type of cloth in the column. This should be implemented in all different designs and colors of a specific cloth type. At the top of the shelf, a screen is to be placed mentioning the number of likes given to a specific cloth by the customers and visitors making it easier for the shoppers to choose which design they should see first and which they would need to think twice before purchasing.
Racks for heroic equipment
The brand Eight Inc, known for the production of football equipment, introduced a rack that is positioned as Superhero Closet, i.e. "Superhero closet". The idea was invented simply. All the various products including custom hoodies, custom t-shirts, and shoes developed by the company needed a worthy presentation. So a hanger rack was created, which on the one hand shows equipment like Batman's armor or costume, and on the other hand contains a collection of clothes to choose from. So that the buyer could vividly imagine himself in a set of heroic clothes, it was decided to refuse the traditional mannequin with a face.
Interactive fitting mirrors 
This is an alternative to traditional mirrors for fitting rooms in custom clothing stores. Such mirrors are large interactive panels placed vertically in different locations of the store in place of a traditional mirror. With their help, buyers can perform many functions without the help of sellers. The RFID technology allows you to capture all the items of clothing that the buyer brought with him to the fitting room. And also – it will help him request similar goods in different sizes and colors, or find accessories or shoes suitable for the style. In addition, the buyer can adjust the lighting of the fitting room to see how the thing will look in the dark or in club light. When you are buying a custom hoodie or custom t-shirts, having a physical store like this is highly recommended, however, in the case of an e-commerce custom clothing store, such technology can be used through AI easily.
Delivery of clothes to the hotel room 
This is exclusively a form of a clothing store that is associated with the hospitality industry only. In this idea, a catalog is being placed in every room mentioning the current stock of clothes in the hotel along with the prices and sizes. Delivery of clothes comes from boutiques of the famous fashion district "9 Streets" directly to the hotel room. The service was created for those guests who do not want to crowd in boutiques with all their fuss with trying on and communicating with sellers.
Emergency Call Boutique 
An unusual service offering a boutique call service offered a startup called Closet SOS from Costa Rica. The meaning is simple – wherever you are, by reservation, a van with clothes from the Forever 21 store drives up to you and allow you to choose the right outfit. To demonstrate how the service works, the Ogilvy & Mather advertising agency shot a video about a girl who unexpectedly meets another girl at a party dressed in the same clothes as she.
Related: –  Things to know before Conceptualizing a Retail Application for Your Store
Dummy Robots 
IMD Communications Corporation has released a serial batch of robotic mannequins for clothing stores in South Korea. Mannequins can walk on the catwalk and show off in glamorous outfits. They are all dedicated to three Hindu deities and are named after them: Indrani, Dipani, and Marian. Each of the three robotic mannequins has its own character and style of behavior. One of the "goddesses" has an elegant silhouette of a woman of 30 years old, the second – the image of a creative and self-confident person, and the third – the qualities of an energetic and athletic girl.
The All-Pink Boutique
This idea is generated for the very nature of youth females attracted by the color, "pink". In this sort of store, the entire boutique is decorated using pink wallpapers, pink furniture as well as pink flooring. Not to be forgotten that the entire article range of clothes should be made from different shades of the color pink. Such stores are usually seen in baby shops, however, if applied, can work better for custom clothing outlets as well.
Slow-shopping concept store 
At the Design District Zagreb festival in Croatia, the architectural firm BIRO introduced the concept store operating in the slow-shopping format. Literally, slow-shopping translates as "slow purchases," but in fact, deliberate purchases, which today are becoming a new trend in clothing retail. The store consists of huge dressing rooms made in monochrome design with one-color coffee tables, benches, and stools. Buyers can slowly try on clothes, in consultation with a live stylist. Thanks to the flexible system of hangers, merchandisers can present a collection in combination with a specific design.