Video Recording and Video Streaming App Development for iOS and Android
When we talk about videos and photos, these are always present on social media sites these days. Not to mention these are some of the most important trends these days.
From bloggers to companies, and from teenagers, to other YouTubers, everyone is using videos for their content.
Did you know: About 87% of online marketers tend to use video content for their posts.
Not just that but about 82% of the total users on Twitter tend to watch videos on YouTube.
So, there is no doubt that if you want to make sure that your content is liked on social media, you need to use the power of video.
Food for thought: About 500 million hours of all the video content is watched daily on YouTube.
Now, that seems to be quite a lot for sure. Well, social media users always want to tag the best audience that they have on their platforms. We are going to tell you about video recording and streaming in such social media sites.
So, are you all set to know all about it? Well, we are going to tell you all about. With the help of this article, you can have stop motion, filters, and so many other functions as well.
When it comes to the editing recording applications with advanced features, you can have the best results.
For example, FilmoraGo will enable the users to move and chop the scenes when they have the timelines. Apart from that, Apple Clips help in making the animated captions in the best way.
Then why wouldn't you want to be a part of it? We are pretty sure that you are going to love the post that we have here for sure.
Related: – Is Facebook Launching Video-Sharing App(Lasso) for TikTok Competitor?
What Are The Different Types of Video Recording And Streaming Apps?
There are 5 different categories that can define the video applications out there.
For example: There are video recording applications, video editing applications, screen recording apps, combination applications, and so much more.
Now, these are the different types of applications that tend to perform different features. Like, the video editing apps can be used for video editing. You will be able to make your videos look more beautiful and interesting with these amazing things. So, there is no doubt that you would want to use it.
After all, videos are so popular, right? So, why wouldn't you want to use the videos on your content and make it more and more appealing?
Do we bet you didn't know this? About 45% of users tend to watch a full hour of videos on the platform of Facebook.
So, using these apps in order to create proper videos will be the best thing for sure. Make sure that you are using these videos to the best of their abilities. You will definitely be able to have the best results with these applications.
What Features Are Offered By The Applications?
Features of the videos apps are pretty much important. You need to know about the features if you want to have the best benefits of the applications.
These are the features which would make your job easier. So, there is simply not a single speck of doubt about the fact that you will have to know about these features for sure.
Some of the features that we are about to present you here are:
Frame rates starting from 24 and going up to 240 fps
Proper support in order to record videos in different file formats which includeMP4 and 3GP
Functionalities and manual controls provided for controlling these functions
Audio recording along with on-screen meters for audio and other features such as Bluetooth microphone
Different options for recording and editing high-quality videos
Trimming and editing of the videos in the best way. This is in order to make sure that the videos are able to fit in platforms such as Instagram, Facebook, and other platforms
Certain audio features such as voice filters
iOS Platform Options For Building Video Applications
The AVFoundation provided in the iOS platform will make sure that users are able to use the services that are provided with the audiovisual media. You will be able to have all the amazing features that the video editing apps in the first place.
Have you ever heard of iMovie? It is one of the flagship products that Apple has. There are amazing AVFoundation features such as video filtering and other animations as well. You will also be able to add soundtracks to the clips of videos. Now, doesn't that seem amazing, people? We are pretty sure that you would want to use the amazing features for sure.
What we love about the iMovie tool is that you will also be able to store the video clips that you make with the tool in your gallery. So, why not use it in the first place and see the results.
Moreover, with the beginning of the iPhone 6, you will have the tool already installed. There is no doubt that you will have the best support for iPhone X. When you have a large screen of the phone, you will be able to use the amazing tool in the best way.
Not to mention you will have amazing features such as trim videos, multitouch gestures, and other important options as well. With the success of iMovie, there is a pretty huge competition when it comes to mobile applications.
Android Platform Options For Building Video Applications
Android developers can also have some of the best advantages when it comes to video applications. However, one thing that you need to know is that there are no native solutions in the case of video editing for android platforms.
Now you know what that means, right? You will have to move to some of the 3rd party alternative options for that. Hence, the results can be a bit unsmooth for sure. The mobile video solutions for Android are pretty much slower as well. If you want to have elegant results, we would say this is not the right choice for sure.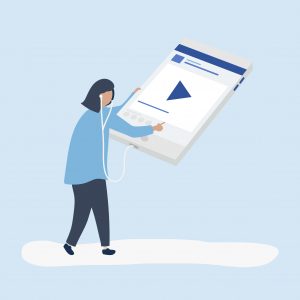 Google also tried to solve the problem by providing a video editor. However, the idea was dropped later on in 2013. Now, that is something that you definitely need to know about for sure.
Moreover, there are no native libraries as well. Also, Google doesn't support the frameworks as well. So, the video editing front can be a bit of a challenge for you. Surely, you don't want to have such problems, right? So, why don't you choose the options that are actually great for you?
However, there are some other options that you can use for video editing in the Android platform such as VivaVideo, KineMaster, and so much more.
Conclusion
So, that is all you need to know about video recording and streaming on Android and iOS platforms. We are pretty sure that this guide was a help to you in the best way.