Best 8 Webinar Software Tools in 2020 (Ultimate Guide for Free)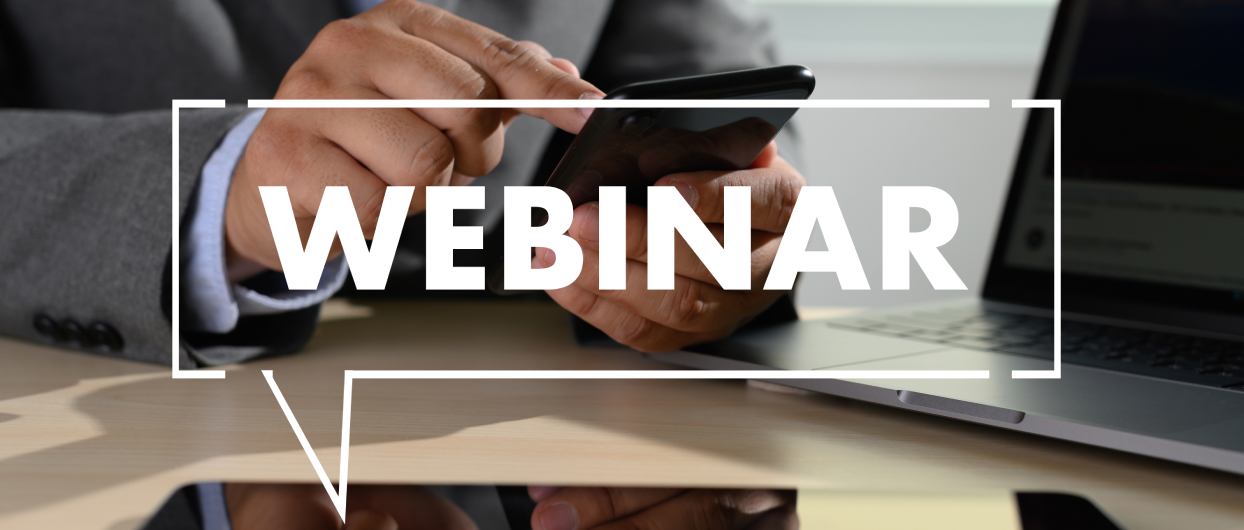 Every Marketer is using and hosting webinar these days. Webinar software is the perfect tool for B2B businesses and there are lots of brands that are using web conferencing in order to grow either B2B or B2C.
Especially in the current situation, COVID-19 here & now the generations demand to grow digitally.
It is a perfect time for all those businessmen who are planning to conduct an online webinar.
Webinars offer a perfect platform to build a healthy relationship with your audience and this helps into your brand.
Are you also planning to start an online web-based seminar?
Great Initiative!
You can easily conduct and execute a web-based seminar via the simplest webinar software. The webinar software is very helpful technology to make an interactive session with the audience, where speakers and audience can easily communicate via audio and communication.
This webinar software offers an interactive feature where users can give, receive, and discuss information it seems like real.
Here, you'll also get other many features like multi hosts, polls/voting features, live chat, question & answers, screen sharing, and lots of features that make your webinar more interactive.
Know about these important steps of best Webinar Software
Firstly, you have to find out the simplest Webinar Software for your business.
Quick and straightforward event management
Videos, polls, sharing and more to spice up engagement
Automatic invitations and follow-up emails
Perfect for any professional with a story to inform
There are so many platforms are available worldwide, but marketers believe GoToWebinar for straightforward, effective demand generation.
So, find out that can drive better leads for your own business. Choose accordingly!
The best webinar software in 2020
Lets Explain!!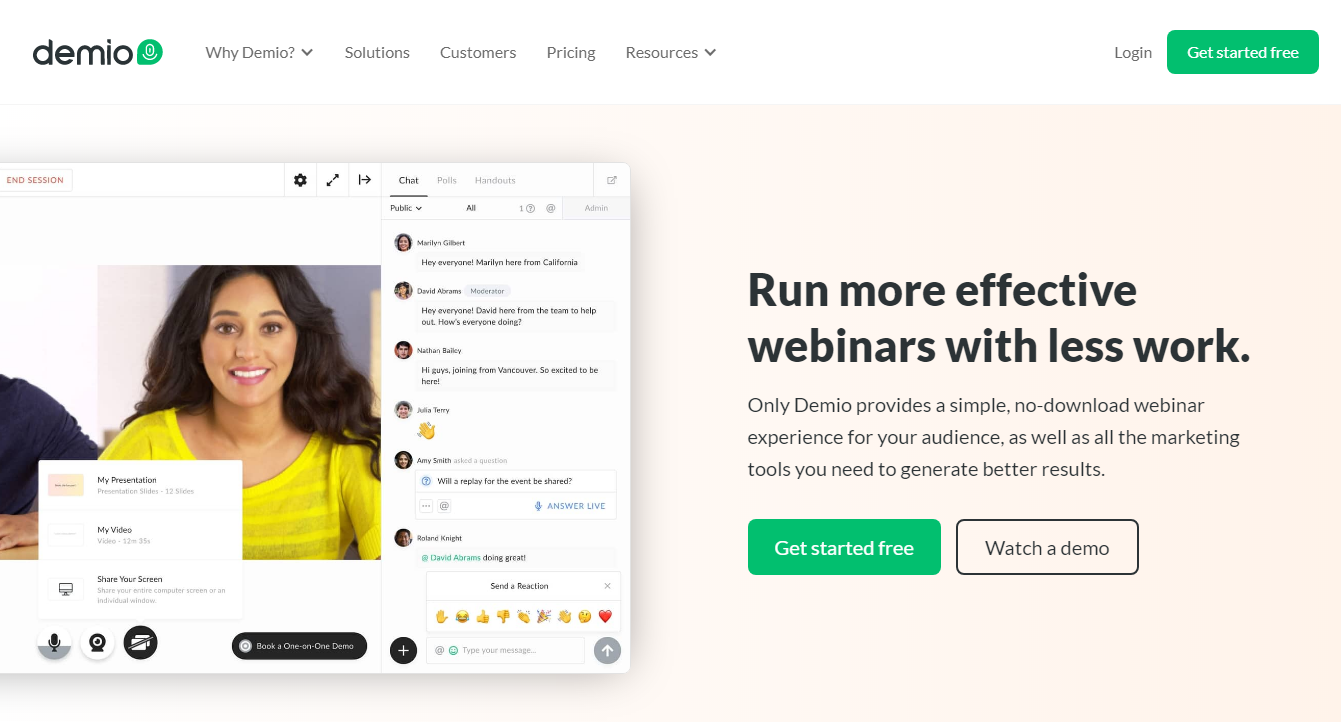 In currently, Demio is the best webinar software available in the market. This offers automated or live webinars, provide mixes of pre-recorded and live recordings.
Demio also allows you to run interactive polls, launch offers with call-to-action buttons, share live document handouts, run Q&As and much more.
Key Features
Allow people to signup.

Users have the choice to send private messages to event coordinators or visible to everyone.

you can connect with the event team according to your brand.

You can review your webinar performance.

This platform is perfect for all those marketers who need a best webinar tool and want to focus on live events.
Now due to coronavirus, Demio is offering a 50% discount for the companies. So grab this opportunity and take a business to the next level.
Pricing
This webinar software tool is extremely well-designed and WebinarNinja offer a great facility to conduct webinar event.
WebinarNinja is trying to convert the audience into customers by collecting all the CRM system and email notifications.
Key Features
Run free webinars or paid virtual summits

Insert your Facebook Ad tracking pixel

Run fully-automated events on a schedule, or can combine both live and pre-recorded elements

Integrate with over 1,000+ apps via Zapier

Can have multiple presenters

Reporting on your live webinar performance.
Honestly, I'd say it's a great option for marketers and businesses those who continue looking for the reliable and best webinar software.
If you're running a webinar event and your target audience is under 100 then WebinarNinja will be best webinar tool. If you have a bigger audience up to around 500 users, I'd recommend to Demio.
Pricing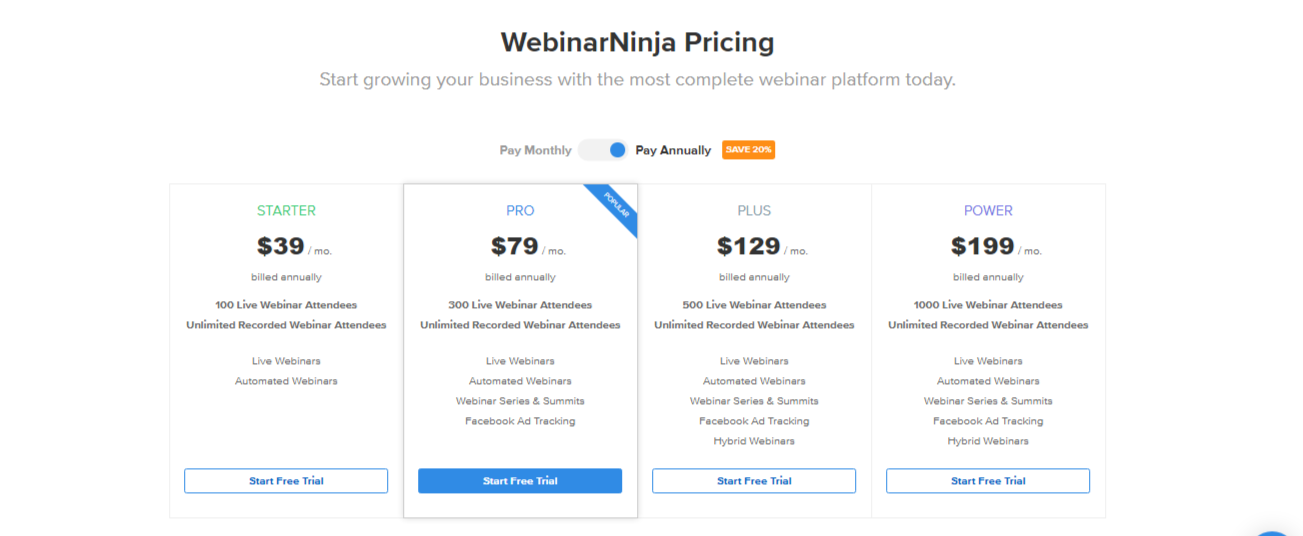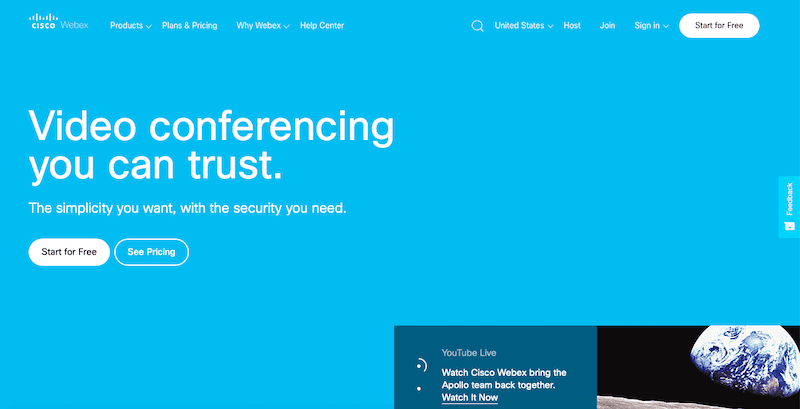 WebEx is also a best webinar software, including a wider range of features like holding online meetings, events, training sessions, interactive presentations and team collaboration.
Although it's pricing is extremely similar. In this, you can get many features with fewer efforts of monger as compare to GoToWebinar and Demio.
Key Features
Here, you can host a good range of live events, meetings and training sessions.

The facility of interactive whiteboard and also available for the collaboration.

The power to share files and apps is responsible for the better workflow.

Automated calls inviting people to attend the webinar.
It's much more than a webinar tool but it's not the simplest webinar marketing tool. It's a professional one.
Businesses who need a powerful video communication system then, in that case, WebEx is top webinar software tool.
Pricing
WebEx webinar tools provide 30 days free tools up to 300 participants and start basic plan for $13.5 for 50 participants and it might be higher than according to need, tier and participants.

GetResponse is primary email marketing platform but it also include one of the best webinar tools features in the market. If you are looking for a platform that gives email marketing, webinar marketing and basic automation, I'd say it's a perfect choice for you.
Key Features
You can select your dates, times and make custom URLs for your webinars at the moments.

You can select your dates, times and make custom URLs for your webinars at the moments.

You can record your webinars, download and share with anyone.

It provides the better engagement and perfect dynamic presentations, interactive whiteboard, videos and live chat.

SSL-encrypted URLs should be used and it is must also.

Analyze your performance of the webinar by using audience poll or another method.
GetResponse is an email marketing automation and webinar tool. If you want to plan for general purpose marketing automation tools with some decent webinar features then easily you can opt to GetResponse platform.
Those who are looking for email marketing, automation with webinar features at one platform then this is the perfect choice for you.
Also read:
Top 10 Demanding jobs in IT Field
Pricing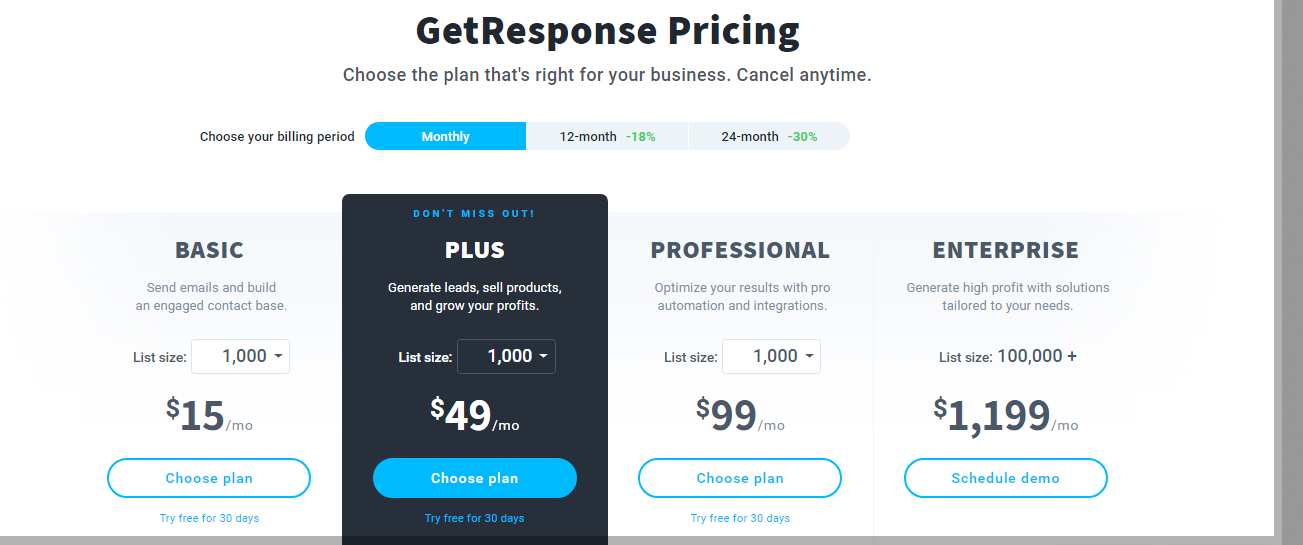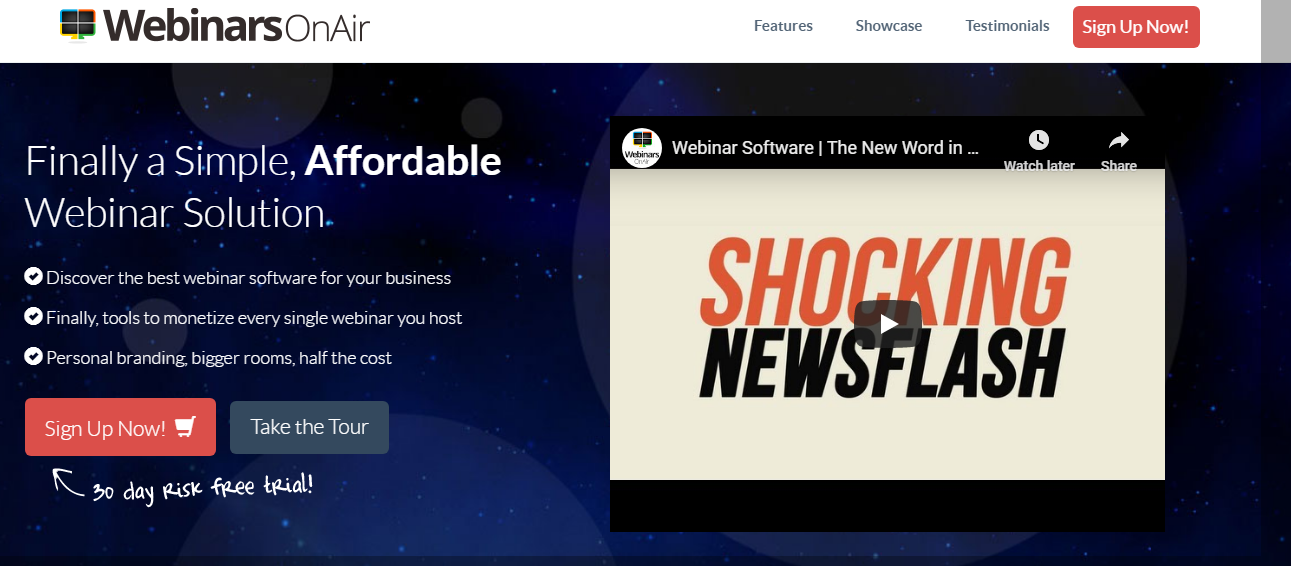 WebinarsOnAir is a software tool that gives all the webinar features according to your expectation. It includes all the updated features of this webinar platform.
Key Features
By using this feature you can do re-marketing via Google AdWords

You can replay your webinar footage whenever you want.

You can interact with the audience via Polls, surveys and chat functions.
This webinar tool offers a powerful list of features as compare other webinar platforms. WebinarOnAir is also best for brand marketing.
Pricing
The WebinarOnAir offers 30 days trail to use its features and basic plan start from $19.97 for 25 attendant and for the unlimited user will charge $99.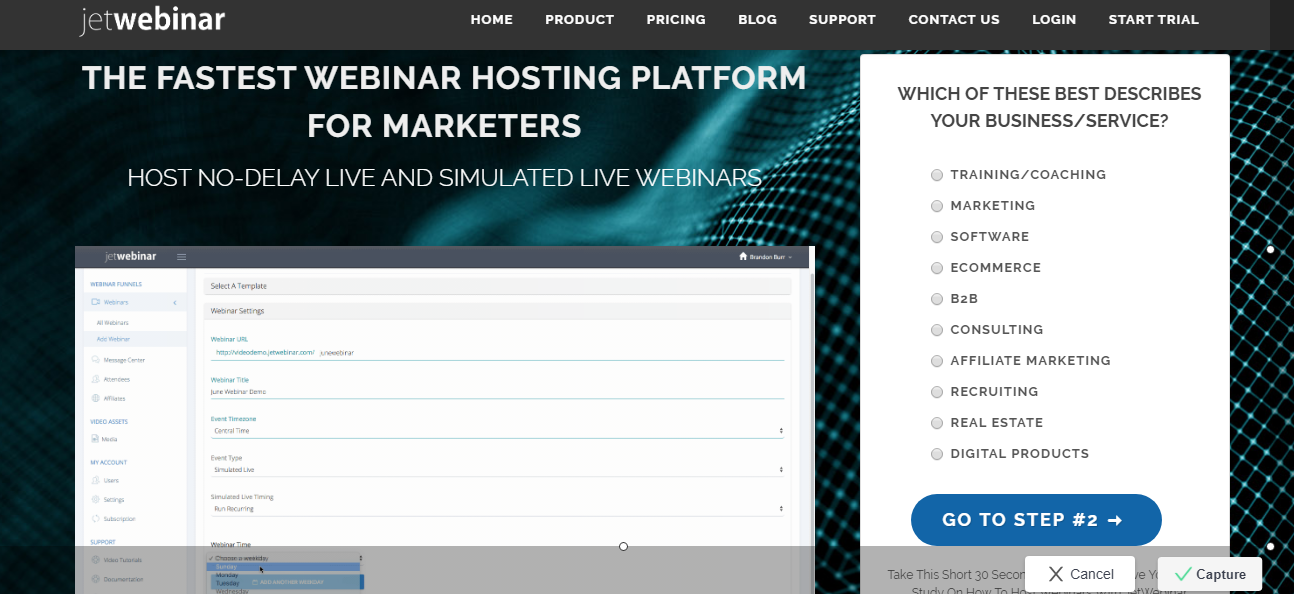 JetWebinar is a modern option for hosting web conferences and webinars software solutions. One of the important things about this platform is, it can handle over 10,000 audiences at the same time.
JetWebinar is above than traditional platforms, It is the best webinar software includes features like automated webinars, on-demand event and landing pages. JetWebinar is the best option for webinar events.
Key Features
Schedule webinar to replay at set times throughout the day.

It helps the user to know that webinar will be starting soon also encourage them to check spot.

It feels the real audience.

Automatically sets your webinar time zones so you simply need to schedule your webinar accordingly.
Pricing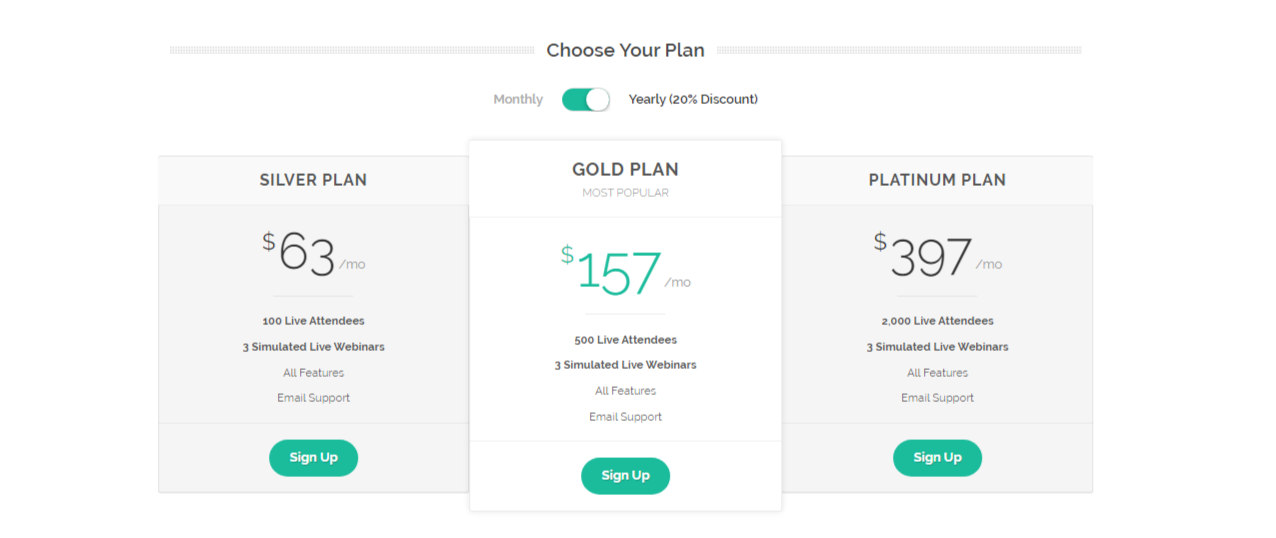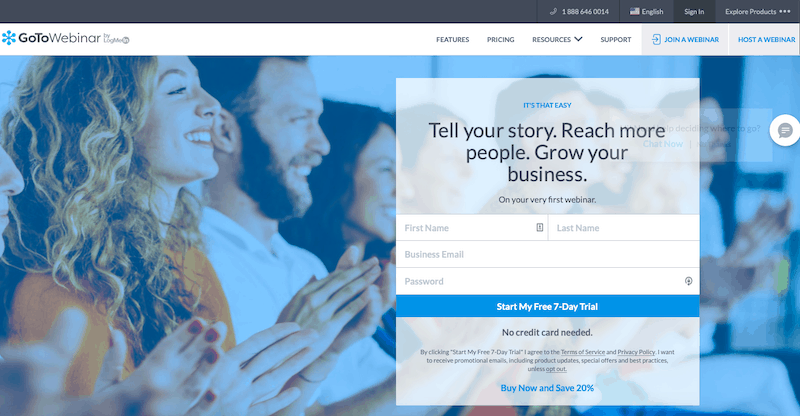 GoToWebinar is popular or one of the best webinar software tool that allows you to stream live webinars and also able to send recordings to the audience once completed the events.
But in this, you can engage with the audience of 100 participants per webinar and if you want to increase the participants then you have to increase the cost also.
Key Features
This webinar software is perfect for hosting to live webinars and share recordings with participants afterwards.

One of the best things about this webinar tool is ready to update the audience via email.

You can use live chat, polls and send files to audience members during your webinar.

GoToWebinar is straightforward to use and a solid tool for webinar marketing tool.
Pricing
Zoom is also a best webinar tool and its popular for video conferencing to business meetings, collaboration and other business activities. It is available with low prices.
Key Features
The capacity of 100 interactive video participants for webinars.

You can broadcast your webinars into Facebook Live and YouTube.
There is also a facility of Mute/unmute speakers for all the participants.

Polls, Q&As and live chat are the best sources of engaging.
If we discuss the video conferencing platform, Zoom is a feature-rich platform that meets the requirements with corporate businesses.
If you need all-in-one video conferencing with live webinar broadcasting at one place, then its a better opportunity to opt this webinar platform.
Webinar Software Features & Capabilities
Internal communications, lead generation and training are the main points of conducting any web conferencing.
GoToWebinar and Webinato, the webinar softwares are also providing web conferencing platforms, along with side screen sharing, video calls, etc.
Performance & Compatibility
They make sure that online events can happen on time and maybe run/accessed from a spread of devices and operating systems.
Deliver high-quality audio

Be compatible with multiple browsers (Chrome, Firefox, Safari, Internet Explorer)

Be compatible with multiple operating systems (Linux, OS X, Windows)

Support any mobile access
Planning & Running the Event
These features allow hosts to schedule run & record the webinar and it also allows registering into the webinar.
Audience Participation
It allows the individual audience to submit questions, comments and opinions individually to presenters like
Audience polling

Q&A

Handouts
Evaluating Webinar Tools
Buyers should prioritize the subsequent attributes while evaluating webinar software.
Reliability
Webinar should be using a lead generation tool.
Audio quality
If the webinar tool doesn't facilitate high-quality audio, the audience might not be ready to understand the content of the webinar.
How you can run an easy Webinar?
Whether you are looking for a fast or free webinar solution, you should consider all these points.
Plan & Schedule Start a webinar on the fly OR schedule before time.
Create customized registration forms, email invitations and reminders. Monitor your promotion efforts with social media tracking.
Record and share your webinar together with your networks.
Share all those recordings on your social media platform that will pay you.
Go to live while having a webinar.
Pre-record your presentations to perfect your message with interactive polls and Q&A.
What are the advantages of the Webinar Tools?
There are so many benefits of using webinar tools or software, you can easily host your event or presentation online. No need to do any physical activity in your end.
Let's have a look at the major benefits!
Webinar are cost effective
Webinars is specifically for the audience of web interested users. In this, no physical location requires. No need to arrange an auditorium or place to attend these online meetings.
The thing needs to conduct in live webinar are:
A webcam
A script with engaging content
A good internet connection
A set of interested people
Good webinar software (it's your choice)
Good microphone
The cost of arranging a webinar is typically between $100 to $3,000, it can be depended upon the webinar platform or other activities too.
And if you use a webinar tool like WebinarJam, you can save handsome money.
Lead Generation
According to statistics, 73% of B2B marketers and sales leaders are using webinars to generate high-quality leads.
With the proper strategy, you can target your audience in an effective manner. The audience should be professional or interested.
You have to take follow-up via emails, communicate together with your subscribers before and after the webinar, these things will help you a lot.
Guest Presentation
Webinars will be successful if you start your presentation in an engaging manner. Start the conversation to welcome guest with perfect speech.
Some Tips & Strategies for to run successful Webinar using Webinar Software
Statistics suggest that webinars trend increases from 35% to 45% registration, and this is the reason everyone is moving this technique into their business to increase conversion rate.
Find Your Audience
The ultimate goal of your webinar is to get leads and increase user engagement. So people can know your product or services.
So, here you should know or need to understand what's the taste of your audience.
You need to do research on the sort of individuals about their demographics, professional domain and expertise.
Here the number of the ways to collect information like:
Conduct surveys
Do online research
Find customer data
Collect additional information via your webinar registration page
Digital Branding
As we all know, Digital branding is a must for any businesses. The creation of visual branding, just like the insertion of a logo, tagline, etc.
The live webinar is one of the best effective ways to grow digitally.
The live webinar provides excellent visual branding and its increase your strength and your brand identity.
Leverage Analytics
There are many analytics tools like Google Analytics and Facebook Insights which will provide you with more details. With analytics, you will have to get an idea of what's going on the market.
Many webinar platforms, like EasyWebinar, built advanced analytics reporting tools.
Keep your Webinar interesting
Recent studies show that 41% of audience prefer webinars of half-hour and 44% prefer webinars up to 45 minutes long.
There are only a few people who want to join the webinar for more than 45 min.
So please keep in mind, your webinar should not exceed more than 45 min. Try to keep engage with your audience.
Which Webinar Tool is Perfect for You?
Webinars play a very important role in the marketing strategy. There are so many webinar platforms are available in the market or in the above list. But the choosing of right webinar platform for you, it totally depends on your specific needs or I'd say choose according to your audience as well.
Because, we all know webinar software is one of the perfect ways to interact with your leads, engage with them, and its the easiest path to increase the sales funnel.
To make things easier for you, we tested, checked and reviewed these tools personally and tried to identify which one is perfect for the business purpose.
The perfect webinar tool for any business should deliver live high-quality video. Most video conferencing tools comes with features like built-in surveys, polls, email marketing software, live-chat features, automated webinar sequences, live-streaming, and more but the quality is a must. So choose accordingly!!
Final Say
Webinar software is very helpful when talking about getting leads and build a possible client. Hence, webinar software is a vital tool for B2B businesses, there are many big brands that are using the webinar platform for B2C marketing efforts.