21 Best Practices for Building and Running a Successful E-commerce Website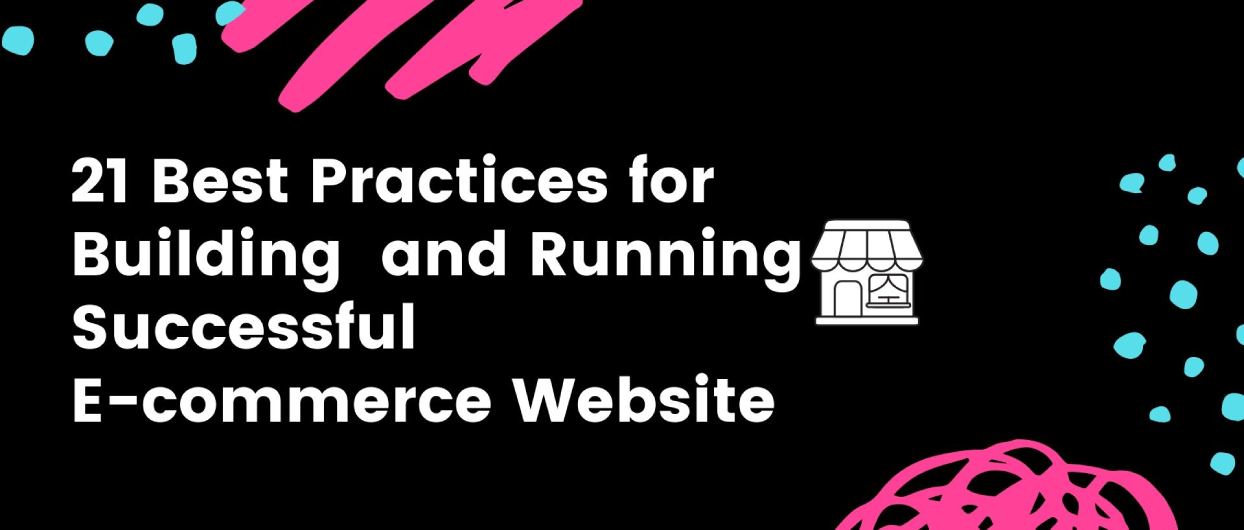 Ecommerce is evolving by the day, and why shouldn't they? Today, customers are taking around 50 milliseconds to make their opinion about a website that results in their purchase decision.
New trends, capabilities, improved customer experience, and usability, have changed the eCommerce industry over recent years.
According to the Global Ecommerce sales, the industry is expected to reach $4.2 trillion in 2020 and will reach more than $6.5 trillion by the end of 2023.
If you are in business to sell tangible products online, then you already know the importance of having a robust online presence.
The internet is a shopper's Paradise, for entrepreneurs who are looking for launching an eCommerce platform, this is the right time to do so.
But with the competition in the eCommerce industry posed by the high flying eCommerce stores, it's easy to distinguish between an everyday online store from an official online store. So to beat the curve, you need to focus on every single detail of your Ecommerce website.
Above that, the Author, Joseph Pine, comments that "Economic value is no longer based on commodities, goods, and services, that experience is what customers now interested in."
Do, beyond the tangible elements and sensible strategies, eCommerce websites have to deliver a mindful experience for customers as well.
In this article, we are talking about the top 21 best practices for running best eCommerce website to beat the competition and improve your sales.
Let's Dive in
The idea of the best eCommerce platform is a myth, but you can create your version of perfect by adhering to the changing trends and prioritizing your customer needs.
Best eCommerce Website will have several elements in common
We look in-depth by breaking them down one by one
• Remove Clutter
• Simplify your Menus
• Include a navigation bar
• Get the best web hosting service
• Simplify your checkout process
• Encourage profile Creation but Don't force the Shoppers
• Send shopping cart abandonment emails
• Prioritize SEO
• Regular Blog Posting
• Build an email subscriber list
• Multiple Payment Options
• Write informative product descriptions
• Get rid of ads
• Effective Customer Service
• Test & Analyze
• Go mobile
• Offer free shipping
• Partner with brand influencers
• Display high-quality product images
• Include Video Demonstration
• Showcase customer reviews and testimonials
1. Remove Clutter
Too much clutter means your best eCommerce website is not elegant! And it can distract users; that why best eCommerce sites prefer to use simple designs, and it has higher conversion rates as well.
Developing an excellent website doesn't mean you have to include everything on the same page. So, you have to meticulously observe your website design over each step. Today, simplicity is what wins the spur of customers!
Distracting your visitors with clutters will only make it hard for what you are aiming for. A recent study shows that it takes visitors more than three seconds to locate the CTA button.
The visitors should be drawn straight to the CTA button. We should make it easy for the visitor; a balanced page with everything necessary for a customer is what you should aim for.
Using whitespace, clean typography, large product images, subtle animation, and clear CTA methods can trim down all the unnecessary noise.
Also read:
10 Great IT Courses In 2020 will improve Your skills
2. Simplify your menus
Did you know 57% of users say no to a poorly designed website? Menus help your website to stay organized and user-friendly. The products you sell should be placed in order rather than arranging it clumsily.
Menus help to do so but don't try to put too much of them as they will confuse the buyer, preventing them from finding what they're looking for. Try to use broad and meaningful terms to categorize your products.
To illustrate, if you sell clothes, then try using these words
• T-shirts
• Long sleeve shirts sweaters
• Tank tops
• Vests
3. Include a Navigation Bar
Be simple. After simplifying the menu options, you have to make a few additional changes then. Customers while clicking on each category, they will see more products even with a few menu selections.
All of you may not have a bundle of products to sell like big names. So never force users to scroll through the categories randomly as it won't bring you sales. Add a search bar as it makes it easy for the customers to find what they're looking for.
4. Get the best web hosting service
Efficient Hosting solution is an important factor for any best eCommerce website. If it is a standalone server such as dedicated servers, it is always an advantage for anyone who is looking to start their own online business.
A recent study shows that there is a 7% loss in conversion and a 16% decrease in customer satisfaction due to the one-second delay in page loading time.
As best eCommerce websites face tons of traffic unexpectedly, their hosting solution should be implemented with a lucid understanding of the specific requirements of a retail website.
In addition, the hosting provider could hep in other imperative elements like shopping carts, SSL certificates, payment gateways, and database support, and eCommerce security requisites.
Their benefits can be summed up as the below points
• Availability
• Scalability
• Secure customer transaction
• Ease of Shopping with cart
• Multiple Website management with single admin panel
5. Simplify your checkout process
Shopper experience plays a vital role in gaining customer loyalty; it is your job to make your visitor's purchase completely easy. Shop owners should be keen on making the checkout process easier for customers.
One of the main reasons for a customer to abandon their shopping cart is because of the complex or poor checkout process. 28% of shoppers said they left the shopping cart because it was too long and complicated.
The key is to include only necessary information from the buyer in the checkout process, for that you need to keep your checklist simple and effective
• Display a progress bar
• Avail various payment methods
• Ask less
• Make it easier to change your cart
• Follow up if their cart is abandoned
Also read:
Test Case Management and Its Tools: Brief Overview
6. Encourage profile Creation but Don't force the Shoppers
Buyers want to complete the checkout process as quickly as possible; that's why you should implement a guest checkout system for your retail website. Guest checkout is quick and convenient.
A recent study shows that, on average, the conversion rates of mobile users' who logged in and those who used guest checkout were nearly identical.
That's why instead of forcing your shoppers to create an account, you should offer a guest check out option. But that doesn't mean you should give up on account registration altogether. The trick is to make believe the shoppers that logins beneficial.
7. Send shopping cart abandonment emails
Shopping cart abandonment is the phenomenon when a potential customer starts the checkout process without making the purchases. In recent years more than 70% of shoppers have abandoned carts during the checkout process.
You can overcome these phenomena by implementing an abandoned cart email strategy. Shopping cart abandonment emails will help remind customers of the products they have added to the cart. Sending reminder emails to shoppers is the best way to finalize the sale
8. Prioritize SEO
SEO is low-hanging fruit for best eCommerce websites having the highest ROI of any eCommerce marketing campaign. Still, most of the online retail sites have given little consideration to search engines.
A recent study shows that 46% of customers start to buy a product through a regular search engine like Google. In such cases, if your page is not ranking amongst the top then you are already out of the competition.
So that shows the importance of SEO in eCommerce websites, the best SEO strategies are comprised of
• On-page SEO
• Site Architecture
• Keyword Research
• Local SEO
• Technical SEO
• Link Building
• Content Marketing
9. Regular Blog Posting
It is analyzed that 38% of visitors leave the website if they cannot find relevant/unengaging content. Blogging has been one of the earliest and most successful tools of marketing in the eCommerce industry.
Running a blog in addition to your best eCommerce website is a robust way to build a good customer following.
Blogging did not pop up yesterday; it has been around for some time, and those who understand the importance of blogging and content marketing only will prosper in the culture that is eCommerce.
Even though you're primary goal is to bring traffic via products there are multiple reasons for implementing blogging in your retail store such as,
• Industry branding
• Customer Engagement
• Perfect way to boost your conversion rate
• Build a brand loyalty
• Strong Online community
• Social Media Marketing
10. Build an email subscriber list
You need to have a good number of visitors ready to buy products from your website if you want to be a successful retail website owner. But do you have any idea how to drive that much traffic?
Well, for starters email subscription list is one. Of the best options, there is. Recent studies show that the email list gets 10 times more conversion rates than social media marketing campaigns.
As a retail shop owner, you want to provide your visitors with a number of possibilities,
Email subscription list is right there at the top
• Email is purposeful, targeted and personal
• Email is one on one communication
• Increases conversion through segmentation
• Supports eCommerce sales and branding
• Rewarding to your loyal customers
11. Multiple Payment Options
Implementing Several Payment gateways in your retail shop allows customers to go through the checkout process hassle-free easily. You can't fixate that everyone has a visa or MasterCard. Some studies show that customers abandon or cancel their items online because the site doesn't offer multiple payment gateways.
Shoppers should be able to use their favorite payment methods; that way, they can build their cashback points with their preferred credit card. Even if their favored car company charges a higher merchant transaction fee, you still must take other credit cards for the transaction.
Multiple payment gateways offer a ton of advantages like:
• Makes shopping easier for customers
• Shoppers can use their favored banking option
• Customer feel safe giving your data
• Backup if one payment gateway crashes
12. Write informative product descriptions
A good product description answers and anticipates any question the customer comes up with. If you are not providing the basic information of the product you are selling them, you are asking your customer to go search for the product elsewhere.
You can't describe anything with just its name; every product of your website should be descriptive and informative. This doesn't mean everything should be cluttered, keep the description short to the point, and explain how it works and its key benefits.
13. Get rid of Ads
You are making a big mistake if you are allowing other brands' space to sell their advertisement via your retail space. Yes, its good money, but it's not worth turning away your customers. Stuffing your website with sidebar ads and a popup will only scare away your visitors by making them think its spam.
A recent study pointed out that 82% of shoppers in the US found ads to be a distraction while shopping. So try to reduce ads and implement whitespace to avoid cluttering.
14. Effective Customer Service
If you thought every single one of your transactions would go smoothly, then think again. Customers will always have problems and questions; not all transactions will go smoothly.
So it's your responsibility to give full support while your valuable customer is experiencing an issue. So having a readily available and accessible connection is very important to your eCommerce needs. Let it be a phone, email, or live chat; it should friendly as possible.
Don't keep the customers waiting to employ staff that is trained and experienced while handling your valuable assets.
15. Test & Analyze
Running multiple tests and analyzing their reports is the best way to understand the highest possible conversion rate of your retail shop. Online shops are virtual spaces where people exchange money for your products, so it's essential to test and analyze that your shop won't break down on crucial points customer data security, secure transactions,
user experience, and mobile responsiveness. By analyzing the results of your test, you can make the necessary changes and increase the rate of success of your shop.
16. Go mobile
To work well with mobile devices, your best eCommerce site needs to be optimized. Over the last six months, around 63% of people having smartphones used their devices to buy online products.
It is not practical to exclude mobile shoppers as well. To pursue next-level shopping, you should build an app for your eCommerce business, thus personalizing the consumer shopping experience. Just a few clicks and you are done.
17. Offer free shipping
Try avoiding shipping charges when customers order online. Since unexpected costs are the top reason for shopping cart abandonment, it is imperative to retain the customer base. While ordering online, customers see a price listed on one page, but at checkout, they see additional charges.
Already they have to pay the taxes, but applying shipping charges is too costly. You can increase the cost of the products that cover the shipping charge to draw the attention of customers.
Also read:
How to Write to NTFS Drives on Mac?
18. Partner with brand influencers
Credibility is of prime importance, and it drives sales to have successful best eCommerce website. Try to approach celebrities or someone with a huge fan following, especially in social media.
It helps enhance your business, thus making your website look more legitimate. Though it may cost you, it can yield a high ROI. What you have to consider is to work with someone related to your industry.
19. Display high-quality product images
Unlike in a physical store, it is not possible for the customers to touch and feel the products. People often look for the quality of the products which they want to buy. Here, what they get to see are images. Try uploading high-resolution photos and give them a sense of what they're buying.
Use high-quality cameras rather than just mobile phones. If you want to take pictures with mobile phones, then use the ones with high MPs.
20. Include video demonstrations
Mostly images work. Sometimes, it won't. Try adding a video demonstration as well. According to Forbes, 90% of consumers say videos help them decide on purchasing a product.
Most of the best eCommerce websites often use this technique to draw the attention of online enthusiasts. Video demonstration helps customers to know about the products in a detailed manner.
21. Showcase customer reviews and testimonials
Today people rely on reviews and testimonials. It is imperative as businesses believe it as a great way to add credibility to your products and brand.
Once the customer buys something from you, follow up on them regularly about new products. Simultaneously, ask them to review the item they bought. Their feedback truly matters to enhance your business in the future.
Conclusion
To run a website, especially best eCommerce site, is not an easy affair. There are a lot more things that you can do to improve your sales and retain your customers.
Try applying the strategies above on your website and see the difference. If used properly, it truly brings you the result you want. Don't hurry. It may take some time. Keep calm and enhance yourself.