Healthcare Apps: A New Approach to Book Your Appointment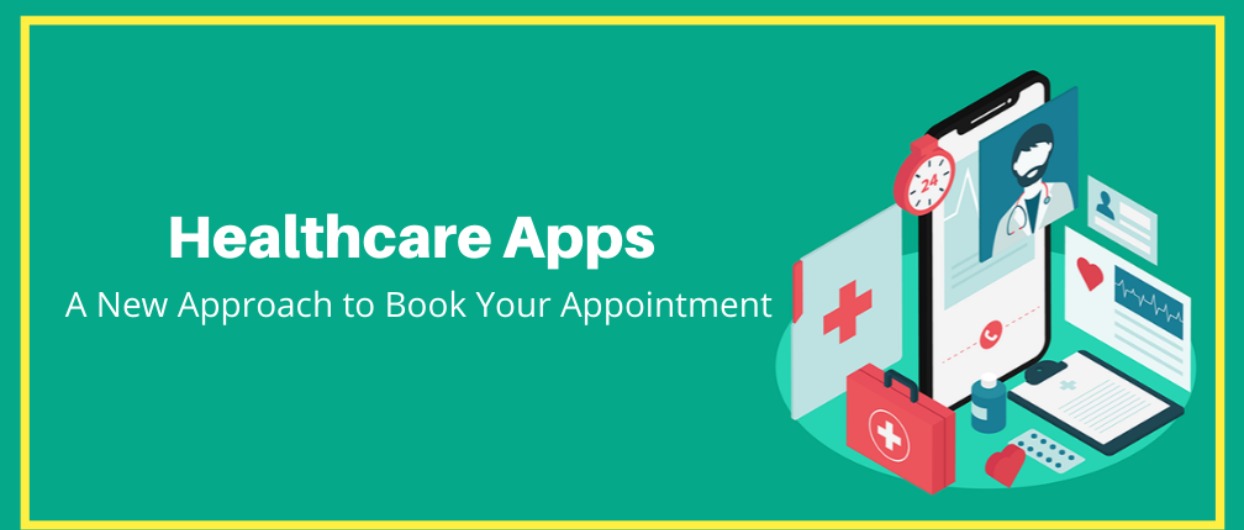 Nowadays, we are living in such a lifestyle where people are becoming more and more health conscious and on the other hand, they don't have time to stand in the long queues to meet a doctor. In this scenario, healthcare apps come with a revolution in the medical field and provide all kind of healthcare facilities to the users. In short, an online doctor's booking app is an answer to those interminable queues outside the doctors' clinics.
Why a Doctor's Appointment App is in-demand?
According to the survey conducted by Patient pop, 42% of admitted patient prefer online appointment rather than taking appointments on phone or standing in long queues.
This happens because the patient wants immediate treatment with no worries. The restless situations in hospitals/ clinics create an unwanted situation for the patient. This situation becomes more critical when a patient in a severe medical condition and requires immediate medical attention but for the doctors, it is impossible to prioritize the patient.
Now, this chaos removed by the healthcare app that facilitates you to take an online doctor appointment with your relevant doctor. Healthcare app has a full list of specialized doctors and their clinics, you just need to book one according to your time and requirement.
This is also convenient for doctors as they will more popular through social media and medical apps and get more patients to their clinic.



Main Features of Healthcare App that fulfill everyone needs
The main objective of developing a medical app is to offer a stress-free consultation to everyone. Thus, it is necessary that all the patients, doctor, and the admin panel get the benefits from the app. The following are some features that one should consider while developing the medical app:
For Patient/ Users
Features that need to include:
Sign up/Sign in: Sign up/Sign in is the very first information of the user which allow a user to use the facilities of an application. It requires E-mail Id/ Phone number with password.
Location: User need to select the location for which they are in search of doctors.
Book Appointment:This feature allows the user to select the date and time for an appointment in the given list of specialized doctors.
Search & Filter options: These options enable users to search relevant options by applying filters for doctors, specialists, clinics and hospitals in the selected location.
Chat/call with doctors: This option directly connects you to the doctor's or their assistant.
Search and book Medicines and lab test: This feature facilitates you for the drug availability and conduct lab test for you.
In-App Payment: Select the available services and pay for the services in the mobile app.
Rate & Review:Take rate & review from the patients after they visited the doctor.
For Doctor
Sign up/Sign in: Sign up/Sign in is the very first information of the doctor which allow them to use the facilities of an application and reach with a user. It requires E-mail Id/ Phone number with a password to log in.
Profile with Specialization details: In this feature, the doctor must include their profile and specialization that will help the users to select the right doctor.
Appointment management: This feature manages the appointment request sent by the users by healthcare app.
Chat/Call with Patient: This feature allows the user to give replies to the user's queries.
Also read:
Facebook will not Launch Libra Cryptocurrency until the Official Permissions of the USA
For Admin Panel (Backend Panel)
This feature is for the administration who have the authority to handle and settle all the minute details of the application. They work as a bridge between patients and doctors. They have the following features to handle:
Manage Dashboard
Manage Payments
Patients/ Users/ Doctors Management
Blog Management
Provide Reminders/ Push Notifications
Factors that develop trust for Healthcare App
There are some other factors that need to consider to make a reliable and best ever healthcare app. These factors build trust between the users, doctors, and mobile application:
Always keep in the mind target audience while creating the app.
Try to build a simple and impressive app as all type of user will use your app.
Need to maintain data privacy as patient share all secret information to you.
Set all the necessary action to provide online consulting.
Make an easy search for doctors' profile by adding appropriate filters.
Include in-app payment to reduce fraud.
Provide push notifications for frequent communication.
Provide online prescription, health tracking, inspirational video, and custom suggestion to make a personal touch with users.
Provide genuine reviews to the patient will build the trust for doctors and for application.
There is many popular healthcare app in the market that helps patients who need immediate consultation. These applications are the one-stop solution that put all healthcare information in one place. The Practo Healthcare App and the Book My Doc App are some popular healthcare application that serves an amazing role in the medical field.
Key Features of "Practo" and "Book My Doc" Applications
Quick and easy registration/ Login.
Filters that select doctors, diagnostic labs, and other medical facilities in your nearby location.
Options for your previous bookings and prescriptions.
Facilities to chat with the doctors and get the primary suggestions.
Provide all necessary details of the doctors.
Options to order medicines online and also get prescription and test reports online.
Option to cancel an appointments and share/ view reviews. Option to cancel appointment, and option to share the a
Also read:
Top 6 Ways to Boost Employee Morale with Visual Communication
Wrapping Up
When you are going to develop a doctor's appointment app, it cannot be possible with an average team to doctors or advisors. You need experts' team who are well specialized in solving all kind of medical issues and help developers. Also, you need to hire mobile app developers who are proficient and have a proven track record of developing such on-demand apps.
The healthcare applications are a very crucial matter that requires 24X7 proper attention. It requires active collaboration between a client and the app development company. However, the cost of on-demand app development is high because it depends upon the number of customized features that you want to integrate with the app. So, if you want to integrate the customized features in your healthcare app, then you need to be open for your budget.