Top Healthcare App Development Trends to Watch in 2020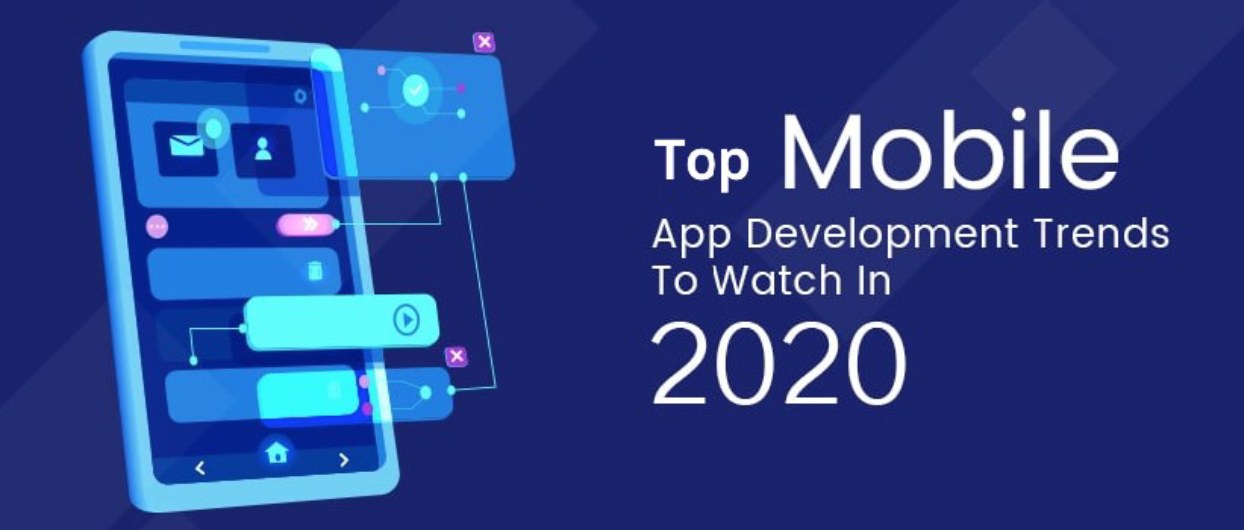 Digital transformation and automation are swiftly becoming new norms for the thriving healthcare sector. The higher adoption rate for technological advancements in the healthcare industry indicates that we will witness significant changes in patient care services over the years. It is expected that the digital health market will reach $206 billion by the year 2020. In the digital transformation of the healthcare sector, healthcare app development will certainly play a crucial role.
It is fair to mention that technology has changed the healthcare industry in a big way by introducing various trends. Here we highlight seven major technology trends that are set to rule in the healthcare sector over the next five years or even for the decade. These trends are designed to keep the improved healthcare services and better patient experience in mind.
Top Healthcare App Development Trends to Dominate in 2020
Telemedicine
This is one of the most prevalent and patient-friendly trends in the healthcare sector. It is a highly effective way to provide access to healthcare services to people who reside in remote areas. Telemedicine is expected to rise with the help of a customized healthcare app over the period and improve both diagnosis and treatment services. Patients, who live in remote areas can also get services of specialists with ease thanks to this trend.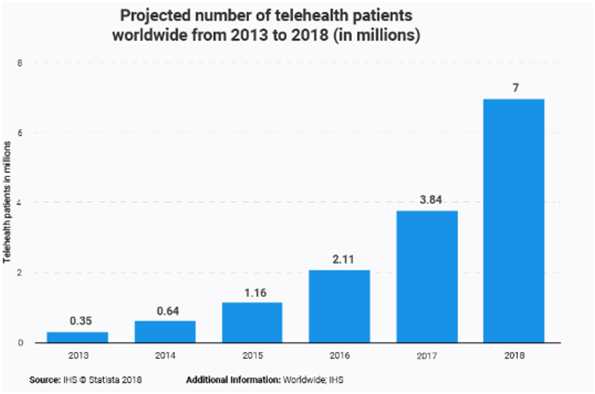 As per Statista estimate, over 7 million patients have taken advantage of telemedicine in the year 2018. The healthcare app development domain can integrate advanced features related to big data and AI to provide uninterrupted access to the patient's vitals and remote monitoring facilities to physicians.



Cloud Computing
In the year 2020 and beyond, the cloud computing concept will be penetrated in the healthcare sector for the sharing of large files and health records. Healthcare service providers want to establish and maintain a robust system for storing health records of the patients. The cloud concept can help them get real-time access to the patient's health data. Cloud-based solutions can make the diagnosis and consultation processes more convenient for specialists and patients alike. Telemedicine applications can be integrated with the cloud-based features to meet HIPAA compliance and other regulatory requirements effectively.
In the coming years, we will witness the prevalence of mHealth supported by cloud computing and other emerging technologies.
IoT
There will be no surprise if the Internet of Things concept will evolve in the healthcare sector with the name of the Internet of Medical Things (IoMT). The healthcare app development process will combine IoT and telemedicine to bring this new concept. IoMT will include a number of wearable devices and servers to fetch the real-time data of vital parameters like skin temperature, glucose level, and blood pressure. In a report of Allied Market Research, it is projected that the market for IoT devices in the healthcare sector will reach $136 billion by 2021. The healthcare sector needs better connectivity across wearables, smart devices, and microcontrollers without compromising on data security. IoMT concept will evolve to meet this need in the near future.
Also read: Sleep is Important Factor in our Health -How much Sleep is must?
AR and VR
Augmented Reality (AR) and Virtual Reality (VR) solutions are useful for the healthcare sector. Be it a practical training or procedure planning, AR and VR technologies look highly promising in the sector. The use case for these technologies in the sector is- Patients of stroke find it extremely difficult to overcome motor deficiency after the attack. The VR and AR technologies can provide a simulated environment for such patients and enable them to perform diverse interactions. What's more, the impact of these technologies can be monitored to assist therapists in building customized patient care plans.
VR technology has proven its efficiency in individuals suffering from dementia and cognitive impairment. It can play a vital role in restoring emotional well being in the patients. AR technology can render 3D information and allows surgeons and doctors to perform procedures while having all the necessary data ready with the help of other emerging technologies.
Artificial Intelligence (AI)
AI and Machine Learning (ML) are two emerging technology trends that are still in the nascent phase in the healthcare sector. When it comes to fetching actionable insights or processing healthcare data for enabling healthcare organizations to make informed decisions, AI applications are always helpful. AI-based healthcare applications can improve accuracy and increase the speed of the diagnosis. Predictive analytics can also help specialists to go through possible approaches for prognosis and treatment. ML-based algorithms can be utilized to ensure the safe ingestion of chemical agents or medications. It can boost the drug discovery process.
AI is an umbrella term and has a vast scope in the healthcare sector for covering various aspects. The healthcare app development can include AI-based features in the app to make the most of this futuristic technology.
Also read: Do You Live with Anxiety? How to Help You take Control of the Situation.
Chatbots
Like other sectors, the healthcare industry can also utilize smart chatbots as digital assistants for the patients. Apart from providing personalized experience, smart bots can enable patients to book an appointment and get reminders in a friendly way. These chatbots can save valuable time for physicians in providing appointments and keeping their records. Saving in time can be utilized in offering better diagnosis and proper prescriptions. Older patients can find it very helpful to get a real-time reminder for taking medicines.
In the coming years, chatbots will play a significant role in bringing digital transformation in the healthcare sector. However, the focus will remain on maintaining compliance with HIPAA, GDPR, and other standards while
Blockchain
Blockchain technology has gained ground for ensuring the safety of critical corporate data. In the healthcare industry, the blockchain concept will introduce a great combination of security, accessibility, and portability. IoMT devices, cloud applications, and healthcare mobile apps can be seamlessly integrated with this technology to bring transparency, integrity, and interoperability. The healthcare sector can be created, distributed, and modified with greater integrity thanks to the blockchain technology.
Mobile apps have already become a part of our daily lives. The mobile app development process can address the diverse needs of various industry sectors, and the healthcare sector is no exception! The healthcare app development domain will grow rapidly in the year 2020 and beyond as more individuals and healthcare professionals will rely on smart devices and wearables for collecting, storing and accessing health data.