Different ways to Utilize Animation in the Mobile App UI/UX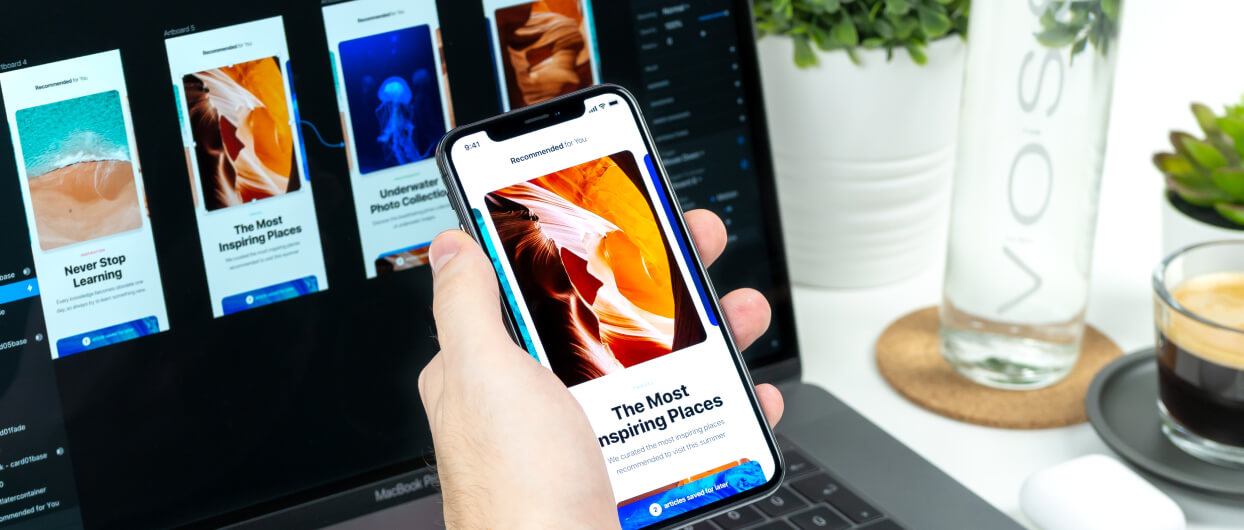 Animation and animated effects for many developers and UX/UI experts now hold a great important position. It is now a key element in the UX designs of mobile apps a Ross the niches. Animation in mobile UI is mostly used to denote a transition from one page to another or just to notify the users about system status or to inform about a process in progress. Now, for a mobile app development company in India, the use of animation brings a new creative twist to user experience. For developers, it is no longer limited to these constraints and can be found across a multitude of use cases.
Here through the length of this blog post, we are going to explain some of the major types of animation and how they are used in the UI/UX design of mobile apps.
Animation for Informing about System Status
This is also referred to as feedback animation or system status animation, and the principal purpose of this is to give users a visual response to any action taken by them. There are many instances where such animated feedback can actually improve the user experience.
For example, when a user in an e-commerce app taps on the "add to cart" button, the system may inform with animation that the product is added to the cart. Similarly, another animation can just inform users about the result of their actions. When something is being downloaded or uploaded, an animated process indicator can inform users about the progress of the process.



Animation for Grabbing the Attention
Animation or animated effects are also used as elements for adding subtle value to the user experience. By working in sync with the app visuals, this type of animation basically helps in grabbing user attention and, thereafter, guiding the user's attention further to necessary details. This is one of the ways to quickly engage the users with particular on-screen areas of the app content and features and thus saving time on navigation effort.
Transition Animation
Within an app, when transitioning from one page to another or from one continent to another, this animation is mostly used. By allowing animation while a transition from one page to another occurs, the UX feels more elegant and stylish.
For example, within an app showcasing food recipes, the card-based menu items can show a transition from one another. The animation from one card menu to another actually gives the user experience a boost.
Also read: Uber Clone App Guide 2020
Animation for Storytelling
Human beings easily communicate with stories, and hence storytelling is so popular a technique in user experience design as well. Animation can be used as an engaging visual element to tell the story if a brand or a product line and can easily engage them and turn the engagement into business conversion. Creative use of animation for storytelling has already been popular across diverse app niches.
Animation for User Onboarding
The first few minutes after a user lands on an app for the first time is decisive since this is the time the user experience of the app creates a first and lasting impression. Now animation creatively used to showcase the value proposition of the app and how it works can deliver a better onboarding experience.
Onboarding animation can be used to provide a quick tour of the entire app to showcase the main features if the app, to show about using the app with Progressive steps, etc.
Animation for Navigation
Since most mobile apps now follow minimalist design convention, the navigation elements are kept hidden to reduce cognitive load and provide visual clarity. Now animation can further help by boasting minimalism on the one hand and, on the other hand, by guiding users to navigate through the app with visual clues.
Animation for Marketing
In-app marketing stands as a key source of app revenue and this is why in-app marketing plays such a vital role. For in-app marketing, using animation can be a great measure. The marketing animation must be eye-catchy and visually engaging, instantly enticing and memorable, and appealing for the target audience.
Also read: The fundamentals of an Android application development platform for business
Key Considerations for Using Animations in Mobile Apps?
Finally, we need to spare a few words on the key considerations for using in-app animation. Let us mention these considerations and tips briefly here below.
Maintain the platform guidelines: the first principle you should follow is to follow the guidelines for the respective OS platform. For example, for Android, your use of animation must conform to Material Design guidelines.

Address the user context and needs: The second most important thing is to comply with the specific user context, and user needs your app is going to serve.

Comply with convention: Certain conventions and norms stood out over the years as irreplaceable for the UI design. By refusing to comply with these conventions, you can only make your UX less engaging and appreciable.

Prevent overdoing: The last but not the least important principle would be abstaining from overdoing anything that adds to the cognitive load of the users. The use of animation instead, if creating extra cognitive load, should make things easier and simpler.
Also read:
The Importance of Mobile Apps in 2019
Conclusion
In any great app UI/UX of today, an animation plays an important role increasingly to reduce the cognitive load while allowing smart communication and interaction. In the time to come, more apps will embrace animation for multiple use scenarios.