How Much Does It Cost To Create An On-demand Courier App?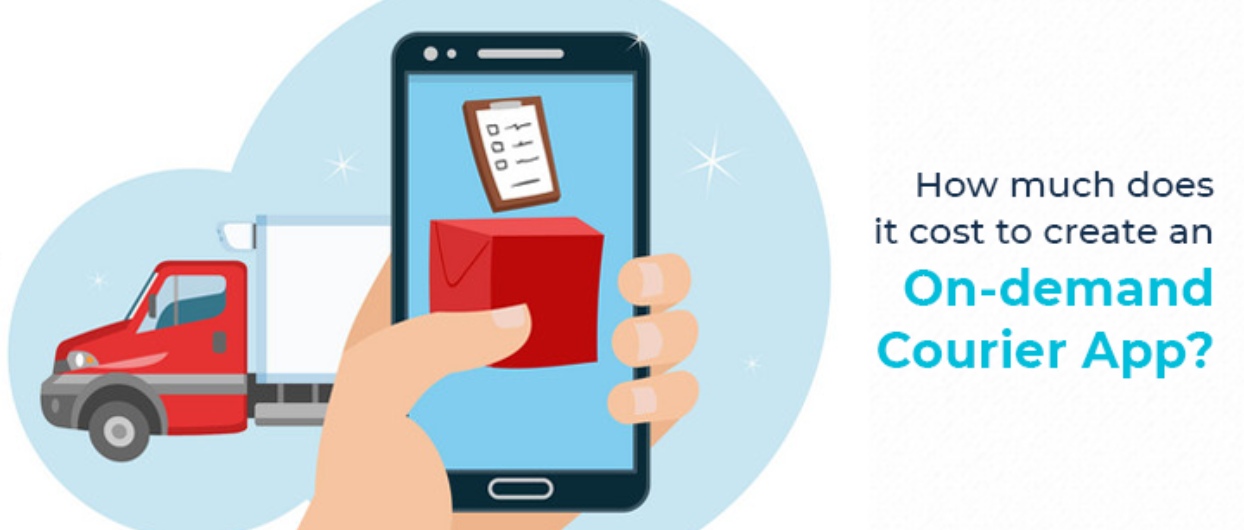 All the operations of on-demand courier delivery progress with a systematic approach. Numerous manufacturers & supply chains run their business operations through the wide network of courier delivery service providers across the global logistics market.
The courier industry remains operational for 24 hours to fulfill the scheduled and emergency demands of goods & packages across the country as well as overseas. To monitor all these activities in a better way, the courier industry banks on full-scale mobile app development for Android and iOS platforms.
Handling your courier delivery set up on a mobile app is much easier than doing it manually. Whether you're involved in logistic business or retail, getting a user-friendly channel to automate the process of courier delivery is the need of the hour.
From food delivery to shipping of goods, on-demand courier apps are simplifying the way companies used to track and manage a bulk of shipments at a time.
The delivery management software is designed based on these 4 business models to streamline all sorts of logistic operations:
For Courier Delivery & Postal Services:
Some prominent courier delivery & postal service providers like DHL, FedEx, DPD, Delhivery, Blue Dart, Expressbee, etc. use the real-time tracking system to speed up their operations for increased productivity.
The impact of investing in on-demand courier app development results in accurate and uninterrupted supervision of all deliveries for courier delivery businesses.
These courier delivery management apps feature a fully customized admin panel and user interface for both end-users.
This platform would not only keep receiver updated but also help senders to track their delivery in the simplest way possible and that's the reason why on-demand courier apps are gaining importance in the logistics sector.
Ola & Uber-like Apps Providing Delivery Services:
We're well aware of this fact that only the delivery of essential products is allowed during these lockdown days.
Due to movement restrictions, most online taxi and transportation platforms turned into on-demand goods delivery apps to counter the impact of the pandemic on their businesses.
Even numerous food delivery apps like Zomato, Uber eats, Swiggy, etc. started providing options for pickup & delivery of couriers by implementing this business model amid COVID-19 lockdown.
Courier Tracking With Real-time Location Updates:
All delivery service companies are adopting this business model to ensure the safe & speedy delivery of packages across the nation &worldwide corners of the world.
The benefits of using such apps will not only save time but also add on to streamlined management of goods received and delivered successfully.
Since all packages are categorized and delivered with a unique identification ID, delivery agencies nullify the chances of loss of goods during the shipping process.
More Integrated Setup For Parcel Delivery:
Some courier apps are equipped with features like real-time tracking, receiving & delivery status, & other shipment updates that significantly boost your business operations as an online retailer or logistic venture.
Important Features Of A Courier Application
The must-have features of popular on-demand courier delivery apps are listed below
For Customers
Signup/login portal
Delivery requests with shipment details
Pickup & drop off location
Parcel tracking
Cancel parcel & order modifications
Notification updates
Payment gateways
Feedback & customer support
For Delivery Partners & Driver
User registration
Order request received
Courier details
Tracking locations & parcels
Charges/earnings per order
Customer ratings
For Admin Panel
Managing order requests & parcels
Tracking receiving & deliver of shipments
Monitoring database of both end-users
Keeping records of all users & delivery partners
Monitoring tracking systems, billings, & payments
Cost of building on-demand courier delivery applications
As per the aforesaid features, the cost of developing a courier delivery application varies with competitive project requirements.
Here are some factors that may influence the overall expenditure of courier app development:
Platform & App Type:
One major factor to estimate the cost of creating a courier delivery app is the platform for which the proposed application is meant to be used.
Since it is highly suggested to get apps for both Android &iOS to derive max benefits from your investments, opting for cross-platform development is a smart decision to reduce your budget.
Features:
All the features defined in the blog also alter the costing of mobile app development services for on-demand courier delivery businesses.
Post-launch Services & Support:
Although the majority of mobile app development companies claim that they provide full support and maintenance after the successful deployment of the app, they might charge you for availing post-launch services.
Right from bug fixing to app updates, their dedicated teams will take care of your app with full-fledged post-launch support.
The Company or Service Provider Hired:
If you've hired a reputed company with full-stack mobile app developers then charges will be comparatively higher than hiring a freelancer or independent developer.
However, a renowned agency for full-cycle app development services is more credible in terms of quality, support, & expertise.
In the nutshell, the pricing bracket of on-demand courier booking and delivery app development ranges b/w $20,000 to $30,000. Your service provider might take 14-16 weeks to complete your project by initiating it from scratch.