Top 8 Popular Text Messaging Apps for IOS and Android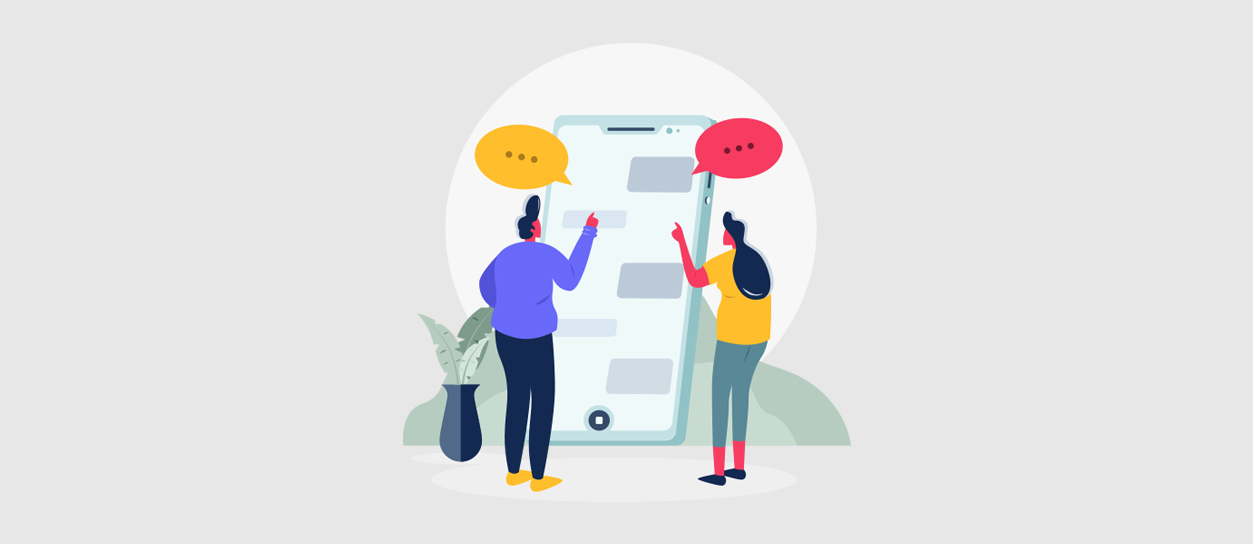 In today's world, our smartphones allow constant and quick communication with our friends, family and even work colleagues. However, the in-built and opt-out of the box applications are not always the best. Similarly, the messaging apps have been in the boom to provide instant services offering all types of interaction among users, from text messaging to video and voice calling, to file and photo sharing with the added advantage of encryption. To make you aware of a lot of different options, here are some of the best text messaging apps with features that are available on both IOS and Android.
ALSO READ: – Apple's Anounce to iPhone users such Feature that is Expected to come to iMessage
1. TELEGRAM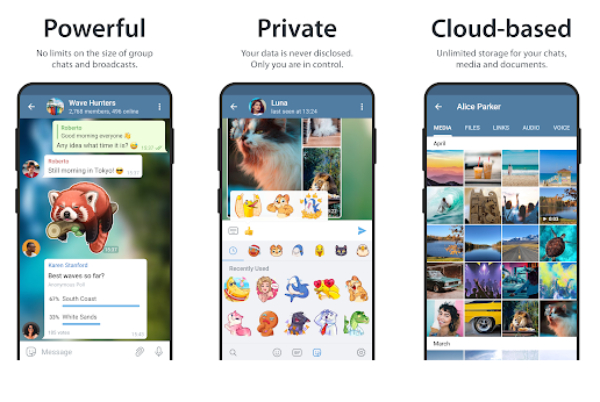 Connecting a large number of active users, Telegram bills itself as one of the fastest messaging applications all around. It generally works across devices such as mobile and desktop platforms. You can store chat history in the cloud and share documents with no restriction on size. The internal functioning verifies the chat with 256 bit symmetric AES encryption, 2048 bit RSA encryption, and Diffie-Hellman secure key exchange. There is support for GIFs and stickers, photo and video editing, and support group chat which can go as far as possible up to 100,000 people. It is available for free to download and does not contain adverts. Telegram's producers guarantee that it will remain free and will never sell information.
Related: – WhatsApp Releasing Desktop Version That Works Without Phone
2. WHATSAPP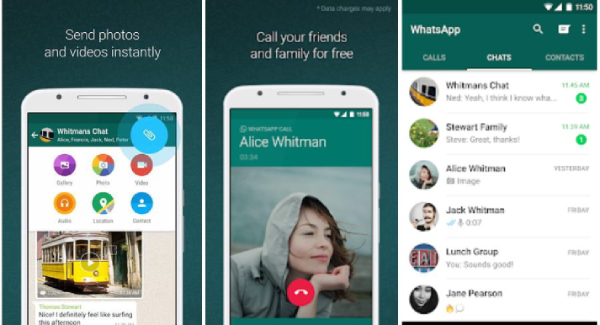 One of the most utilized messaging apps on the planet, WhatsApp is straightforward to set up, and it's free of cost. You can chat and share your images, documents, video, and contacts easily in a matter of seconds. You can likewise make WhatsApp video calls and voice calls too. The set up expects you to grant access to your contacts so that the application can consequently populate your contact list. One thing that is so appealing about this app other than its popularity is its end to end encryption with security and privacy. Owned by Facebook, it supports GIF and Snapchat like editing features for fun.
3. FACEBOOK MESSENGER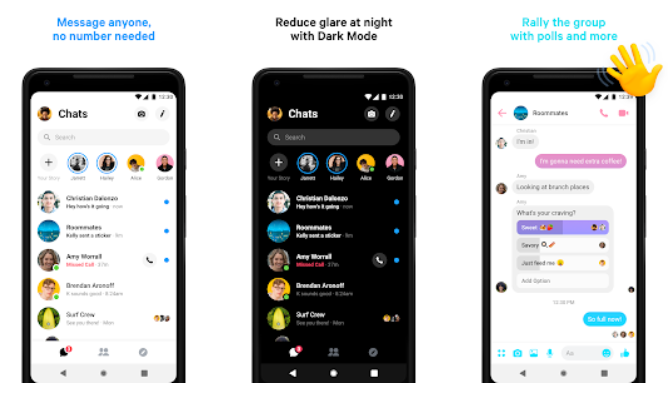 Facebook has a unique messaging application that makes it extremely convenient to chat with family and friends. It will consequently increase your contacts, by allowing you to include contacts, or enable somebody to add you as a contact by scanning the unique code. There are a lot of free stickers available, and you can send GIFs as well. The video and voice calls are clear and entirely reliable. As an Android user, the "Chat Heads" feature allows you to keep a chat symbol floating over your screen for your convenience. You can likewise share files, your location, and many more. You can even begin a secret conversation, which is end to end encrypted.
Related: – Is Facebook Launching Video-Sharing App(Lasso) for TikTok Competitor?
4. LINE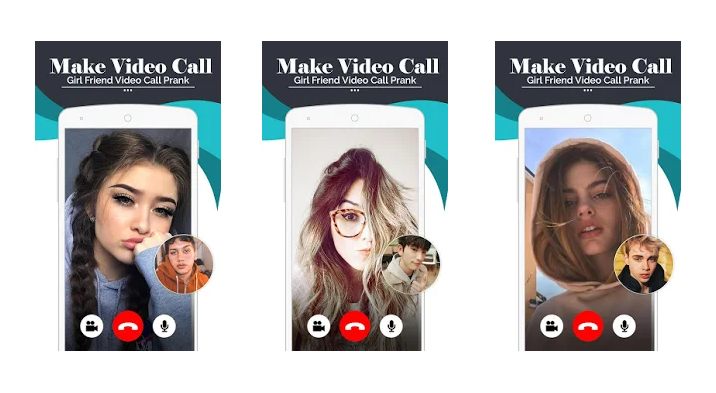 'Line' is the most popular app, particularly in Asia, having over 700 million clients. Just like the standard features of a messaging app, Line has a timeline like Facebook, where you can post your ideas, and your companions can comment on your posts. Features like Calls to landlines and free Line to Line video or voice calls are accessible. Additionally, there is a reliable store of stickers packed with Line characters that are popular in Asia. The group chat allows you to chat up to 200 members, and there is support for encoded chats. You can also follow the brands and artists on Line. It even enables you to set up collections or albums and share it with friends.
ALSO READ: – 7 Amazing Apps Kids Can Use to Chat with Friends
5. VIBER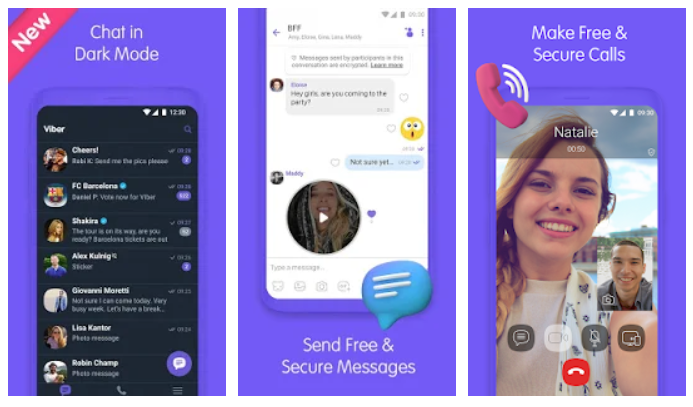 With more than 1 billion clients around the world, this famous application automatically includes your contacts. It enables you to send instant messages, stickers, and emoji's, make video and voice calls and share your most loved photographs. Color-coded encrypted message is also accessible along with the group chat and self-destructing chats. Its Viber Out feature enables you to make an international call or domestic call at a low cost. Viber to Viber calls is in every case free of charge. The latest addition is dark mode.
6. WECHAT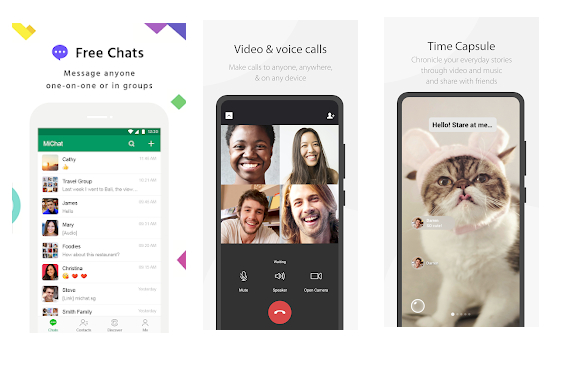 WeChat is the most prominent application in China, with more than 1 billion clients. It offers the typical informing application highlights like photograph sharing, or video and voice calls. With WeChat, you can get features like location sharing to enable you to find close-by friends, and you can share snapshots or moments of your day. This application additionally supports payment, games, and much more. It is available for Wear OS and Apple Watch as well.
7. GROUPME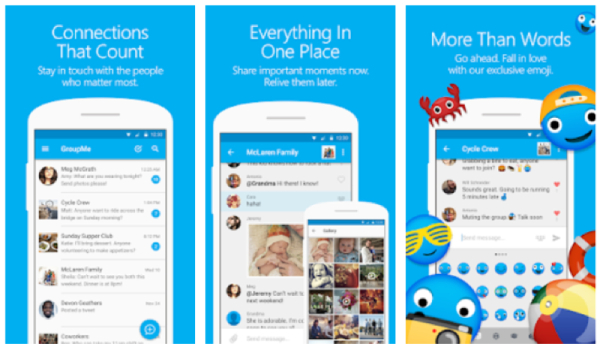 The focus of this application, as the name proposes, is Group chats, yet you can have one-on-one discussions with direct messages. GroupMe enables you to add up to 500 individuals to a Group chat. However, we wouldn't recommend it except if you need can cope with constant notifications. You can contact people using their email or telephone number through this app. If they are in the U.S., they can visit through SMS even without the application. You can also share pictures, GIFs, and recordings, and the app has its very own set of emoticon. Since Microsoft owns this application, it doesn't have an end to end encryption. So in case if security is critical to you, then it is better you pick something else. Else, a great option to carry out group chats.
8. SOMA MESSENGER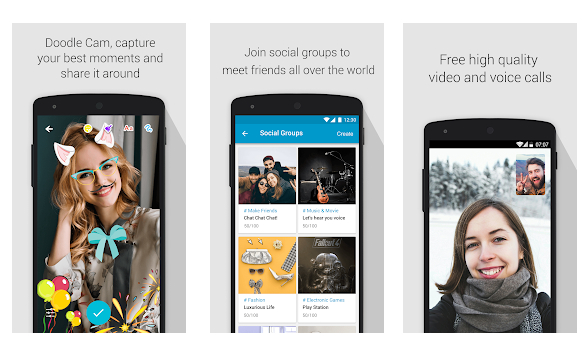 SOMA represents "Simple Optimized Messaging App." It is a free messaging application and has a significant number of people using it. You can make voice or video calls, create group chats with up to 500 people, make shareable GIFs with text and effects, and send instant messages. It has servers all around the globe to guarantee stable connections wherever you go. An end to end encryption feature secures your chat. Also, all the messages are erased from SOMA servers when they're delivered, so it's a decent choice for the privacy-conscious.
Messaging applications have become a necessity and used by every individual. Say bye to email and hello to messaging. They are more prevalent than ever as they include social networking features, improve security, and compete to satisfy the need with the expectation of free mobile calling and messaging services.