App Testing is Your Secret Recipe for A Successful App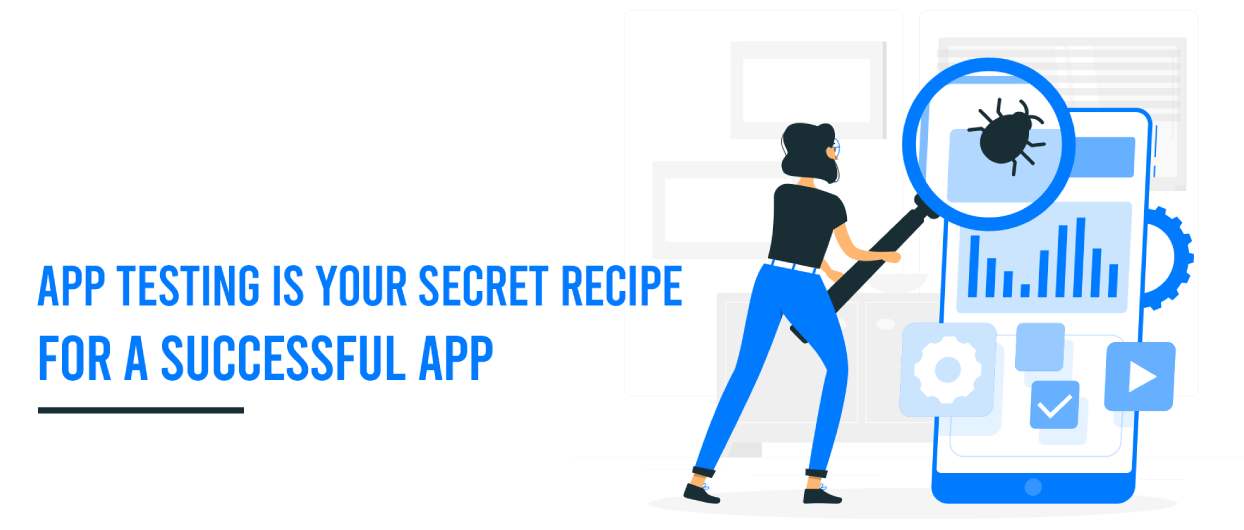 The very concept of software testing, bugs many developers, considering it to be an unnecessary aspect, as it consumes time and effort.
I know I must have hit the right chord now, and many out there can relate to it, but what we all fail to understand is the worth of testing.
Yes, you heard me all correct and fine!
App testing is the best way to grow your app successful and popular!
You might be finding it hard to digest because the first factor that comes in our mind is; it's the features that make an app grow successful, and how comes testing has a role here?
A very valid point, so to help you fathom further, I have brought this post today, just keep scrolling to unleash the magic further…



Why app testing is necessary?
You should know that chucking software testing can never be the option for the successful end-product, but it is a very much inevitable part of the successful app development journey.
Are you wondering why am I favoring app testing in abundance?
Well, there are many reasons, which can support my answer, and some of them I am going to scribble down here within this post to help you understand the significance of software testing.
Testing allows your mobile app to identify the bugs and the errors from the very initial stage of the development.
Bug-free user experience
You have created an amazing app solution, and the moment your users try to access it, app freezes crashes and gives users every reason to abandon the app.
Here when you conduct the app testing on manual and automated mode, it removes every glitch away and ensures that your end-users receive a bug-free experience without a fail, allowing them to enjoy a seamless app.
Also read: Insurance App Development: Essential Features you must Include in Your App
Functional testing improves app usability
The multiple features and functionalities of an app, make it unique and different. And to help it stay ahead of your competitors you invest every possible functionality.
However, those different functionalities needed to be cross-checked before presenting to the users. With the help of the Functional User Interaction Test, you can better understand whether the gestures like press, drag & drop, zoom, rotate, and swipe to name a few, are working well or not.
And if there is something that doesn't fit the app's environment users' expectations can be replaced with something engaging.
Well-tested apps don't face rejection
One of the most troubling facts faced by the app owners is the rejection of the app. Yeah, it is a nerve-wracking aspect that causes sleepless nights and never-ending stress as well.
But do you know why this happens? Well, you would be surprised to know that 47% of users prefer to abandon the app, if they find an app full of bugs, after the first use.
Henceforth, when you let your app go through a well-thought testing process, it secures a strong chance of survival. And there are lesser chances of failure and risks in the future.
Saves time and money
With the help of app testing, you save time and money on your app and reduce its chances of going through repeated testing.
This helps your product to get launched earlier in the market and provides you sufficient reasons to get an edge over your competitors.
Testing from the very initial stage helps the repetitive efforts and helps the mobile app to reduce the chances of undergoing repeated testing.
Further, this process eliminates excessive testing costs and time and lets your app to garner an efficient productivity rate.
Software testing has many more benefits associated with its very concept, which further improves the accuracy and adds value for developers and users.
Let's take a quick look at different types of software testing:
Localization Testing
Although this testing is often missed by the developers, considering it to be of least importance, it is very important. And helps the developers to understand how well the app is adapted to the language and culture of its targeted users.
Security Testing
It is another significant testing type that analyzes the data leakage and checks the shield against cyberattacks
Points it needs to verify
Logins and passwords
Protection against security attacks
Encryption mechanism
Cookies
File caching
Compatibility Testing
With this testing, testers verify software performance on various devices, mobile platforms, and networks.
Points it needs to verify
Device configuration testing
Cross-platform testing
Cross-browser testing
Database testing
Network configuration
Usability Testing
To test the app usability in the context of intuitive interface and engaging positive user experience.
Points it needs to verify
App's layout

Size and look of buttons and icons

Navigation flow

Font and text visibility
Performance Testing
This testing determines the stability, operability, and resource consumption of your app under different conditions.
Points it needs to verify
App response and load time

Load and stress test on the software

App behavior many users work on it parallel
Functional Testing
This testing aims to check the functionality of your app and ensures that it is working as per the defined requirements.
Points it needs to verify
App installation and running errors

Any interruptions on the app

Check app updates' and their Influence

App functionalities and device adaptability
Also read:
Whatsapp Payment Service will be Launched only after Complying with RBI Norms
Wrap Up
Software testing has multiple benefits and if picked accurately can carve out the best possible results for your ROI goal, hence you should not ignore it.
Ensure your app goes through a rigid quality process so it can lead to a successful end-product.