What's new and what to expect from Dynamics 365 FO.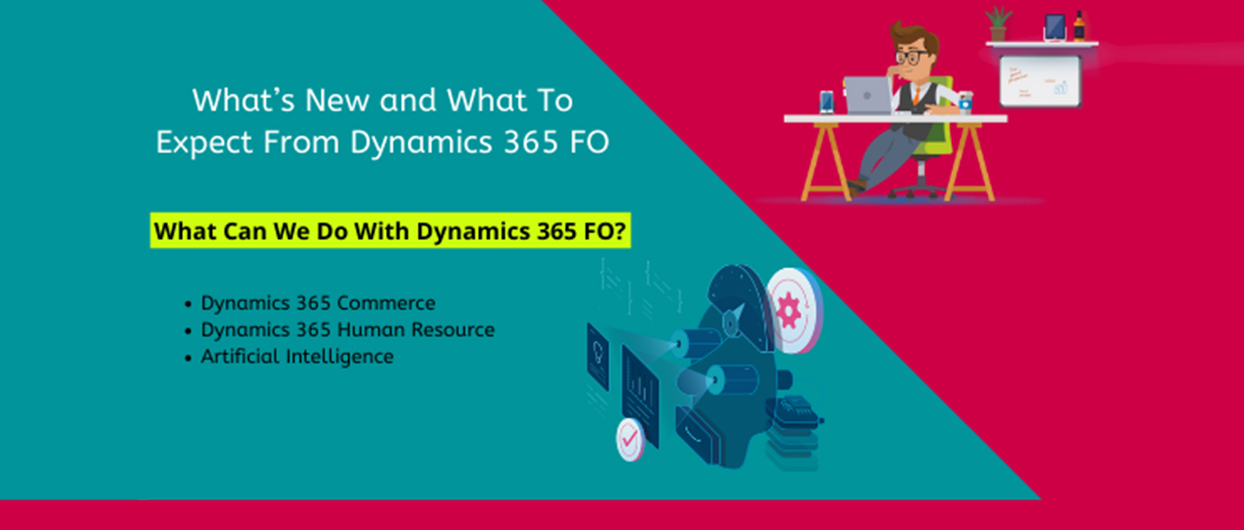 Microsoft Dynamics 365 Finance and Operations contains a wide range of advanced features like much improvedfinancial management features, better analytical functions, more modules and a plenty of other additions that are aimed to satisfy the business needs. Microsoft has been evolving and upgrading the Dynamics 365 line of suites, specifically Dynamics 365 for Finance and Operations.The family of Dynamics 365 is being upgraded to meet the changing demands of the businesses across the globe. Also, new and new technologies are being added in the Dynamics 365 program to make it the best version of itself. In the year 2020, we can expect a lot from this fantastic solution and we will discuss a few of the expectations and additions in this article.
Why should you adopt Microsoft Dynamics 365 Finance and Operations?
Dynamics 365 FO contains a large variety of features and functions that help the users to gain a complete, comprehensive view of the business financial and operational business activities. Additionally, the users are able to conventionally manage and modify the opportunities of the businesses organization. As, the experts get a real-time view of performance of the business, therefore, they are able strategize better. All the modules and features in Microsoft Dynamics 365 are programmed to allow the businesses to enhance the quality of their finance and operational functions. There are several core modules in Microsoft Dynamics 365 FO which will turn out to be quite beneficial for the businesses in 2020.



What can we do with Microsoft Dynamics 365 FO?
Microsoft Dynamics 365 Finance and Operations is used to fulfill various business requirements. There are several features in the application that allow the users to perform process analysis and mapping activities. A few of the top financial modules in the application allow the users to take care of financial management and reporting.Also, the operations application is built to manage distribution and warehousing. Additionally, with the help of this application, you can easily handle the manufacturing activities, warehouses, inventory and a host of projects.
Microsoft Dynamics 365 FO meets almost all the modern business needs. It is a flexible solution which can be accessed from anywhere and at any time. Thus, it is known as a united mobile solution. It is capable of managing a vast variety of activities related to finance, operations, marketing, customer service, projects etc. Also, it is not industry specific and it is apt for a wide range of different industries. And, it is widely accepted by companies of various sizes too.
Microsoft Dynamics 365 Finance and Operations will be a blockbuster in 2020
Artificial Intelligence based features and integration of the latest technologies
Microsoft Dynamics 365 Finance and Operations is a fabulous solution that empowers the companies with Artificial Intelligence capabilities. The application contains the features to make effective business intelligence strategies as well. Microsoft has added some of the finest Artificial Intelligence features to the application. It contains the cutting-edge reporting and analytic tools. Additionally, with the integration of Power BI and Cortana Intelligence the application has become all the more powerful. In fact, it even consists of Azure machine learning, which is a fabulous tool that helps to take advantage of the machine learning features. At the same time, Dynamics 365 is built to support a vast volume of data. So, you won't have to worry about the protection and the utilization of the data at all. And, if the data is protected and used, then there is no doubt about the fact that you can derive numerous benefits from the data.
Also read: Technology In 2020 what awaits Us
More security
Dynamics 365 is available both on cloud and on premises. However, it is preferred in the cloud as that ways, it is more flexible. Also, though, a lot of people might have thought that Dynamics 365 may not be secure if it goes to the cloud, however, Microsoft has made sure that they solidify their security as they are introducing a cloud friendly business solution. Therefore, the high grade of enterprise level security make sure that everything that is stored in the cloud is absolutely safe. It is a lot more secure than the in-house data. As, many companies don't really have the right tools and technologies to safeguard their data. Thus, they should adopt Dynamics 365, a secure and strong cloud based platform. It can be easily deployed into the Microsoft Azure datacenters. Thus, the level of data security which is being offered is of the best possible quality.
As, the world will be keener to adopt newer and most modern corporate solutions, Microsoft Dynamics 365 will definitely leave a mark. It is one of the best solutions and it is expected to reach the new heights of fame in 2020. Also, you may see a lot happening in the world of Dynamics 365.