The Demand for Data Science Jobs in 2020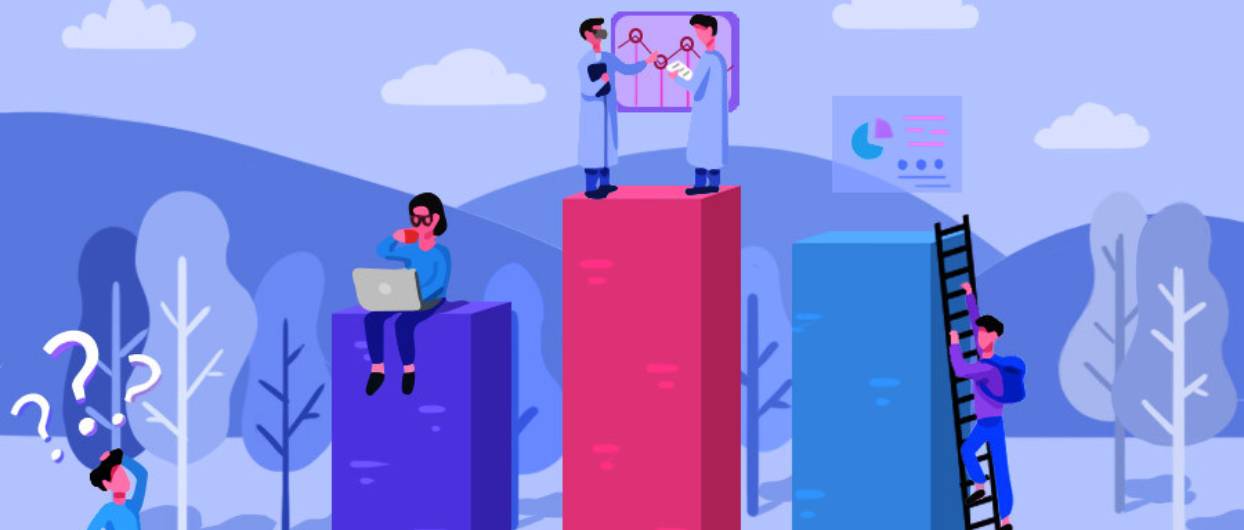 Data science is one of the hottest industries these days, given the massive amounts of data flowing into companies of all sizes and across all sectors.
From product sales to material usage and employee work hours, among others, the variety of data is immense, and this data could be mined for valuable insights to guide the strategic choices of companies.
Data science enthusiasts had a great year in 2019. The data science industry could do even better in 2022, touching global revenues of USD 274 billion (2019: USD 189 billion) and growing at 13.1% annually.
The fourth industrial revolution will further accelerate the demand for data science professionals by creating millions of new data science jobs in the coming years.
The Demand for Data Science Jobs in 2020
This massive sprawl will bring:
Job opportunities for data scientists, data engineers, data analysts, analytics specialists, consultants, insights analysts, analytics consultants, and more
Lower costs, higher efficiencies, uncovering new markets, and an edge over competitors in the market
The prospects for the data science industry are bright. Every day, our world generates 2.5 quintillion bytes of data. This could add up to 5.2 zettabytes by 2025, which must all be analyzed.
And a data-driven mindset has been shown to offer multiple advantages over eschewing the use of data: insights led to profits of USD 1.8 trillion; operational expenses went down by a large amount, and customer acquisition went up by a multiple of 23!
Data science could be a great disruptive force in traditional industry dynamics, as companies can leverage the power of insights to make data-driven strategic decisions that keep them ahead of their peers.
Also read: What is Manufacturing & Technology and how it's use?
The following trends were seen in big data in 2019
Big data analysis got a great push from artificial intelligence (AI) and machine learning (ML).
Acquisitions in the data space moved to core products instead of only adding features incrementally.
Only those companies received funding who innovated more and generated more value than others.
Producing use cases for big data became simple with frameworks for automation.
A large number of data science jobs points to the increasing demand for big data and analytics professionals, further driving the need for distinctive skill sets.
A report from the Royal Society, an independent scientific academy of the UK and the Commonwealth, said that the demand for workers with data skills grew by 231% over the past five years.
Globally, according to IBM, around 28% of the total jobs in 2020 will be data science jobs.
The US Bureau of Labor Statistics (BLS) believes these jobs will grow by at least 19% by 2026.
The data science industry has been hiring an exponentially larger number of professionals every year, making it very popular. About 400,000 new jobs came up during 2018-2019, in particular for administrators, analysts, architects, and engineers.
Along with this growth in job openings, average salary levels for professionals in big data and analytics went up in the same period by 28%.
But there is a serious shortage of the relevant skill sets, which could well disrupt the disruption dream! According to 'The Quant Crunch' report from IBM, machine learning, big data, and data science skills are the most challenging to recruit for, and can potentially create the greatest disruption if not filled.
The current skill development rate for data science professionals stands at a slackened 14%.
On average, a data science job remains vacant for 45 days due to a talent crunch.
In a 2019 survey of 3,000 technology leaders, KPMG found that the "Data Analytics Expert" role was the hardest to fill.
With the ever-widening demand and supply gap, this period is more than likely to extend much further. Already, according to LinkedIn, the total number of big data professionals is 2,186,308 worldwide. Against it, approximately 660,528 job postings were made in 2019.
Looking ahead, the demand for big data and data science skills is likely to continue to rise in 2020. Information technology and services could be picking up 44% of the professionals hired in this period (2019: 36%).
A smaller part, though significant, will go to sectors such as financial services, recruitment, and software.