Running a Successful Ride-Hailing Business: Adopt the Winning Strategies of Juno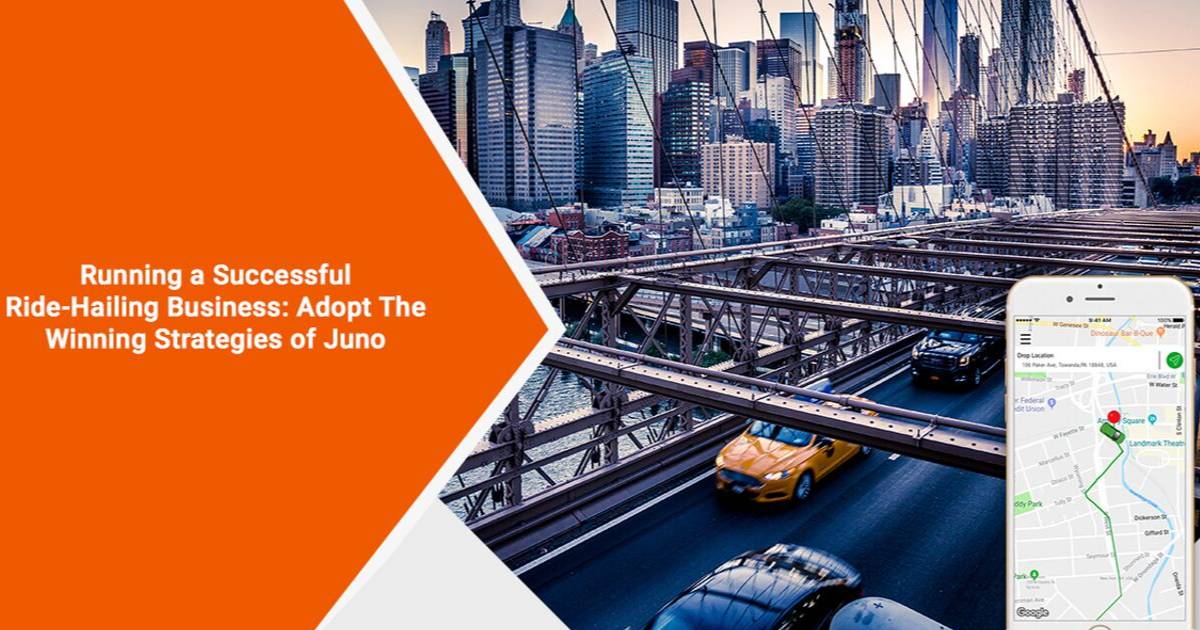 The Ride-Hailing Market
Gone are the days when it was considered mandatory to possess a car. Maybe, own vehicles could have provided the convenience of using them whenever you'd wanted. However, this need has been effectively addressed by the new industry called ride-hailing.
The ride-hailing revenues stand in the tune of $18405 million in 2019 in the United States alone. It is expected to grow by more than 3.5 times by 2023. The bigger surprise is that China, with a market of about $35589 million leads the taxi revenue generating segment.
When it comes to ride-hailing, it might not seem possible to beat a Leviathan like Uber. However, there are few companies that have demonstrated that it is possible to beat even a market leader like if a few strategies are figured out perfectly. Let us look at one such company in focus – Juno.
Introducing Juno
Juno might not even be known as a cab service provider outside New York. It was founded in 2016, and in 2017, it was acquired by Gett, an on-demand mobility company based out of Israel. Juno has managed to beat some big names in their own game by adopting a few strategies.
What Does Juno Actually Do?
Juno shot with a sniper instead of a shotgun!
Uber was founded in 2009, and by 2016, it had spread its services to many cities across the world. It might not have been possible for Juno to compete with Uber on a global scale. However, what Juno chose to do was to target a single place and compete with Uber in that particular city.
For this purpose, Juno had chosen New York. This does not talk about Juno being exclusive to New York but more about refining their work in a smaller magnitude, so they can expand into other markets in the most affordable and efficient way.
As a business that looks to replicate the success of Juno, it is important for you to identify your potential market first!
Related: – Uber-like ride-hailing app for kids: Market growth & development process
Being Technologically Advanced
On the surface, it might seem that any ride-hailing application can only offer limited services. However, what Juno did was it stepped up its offerings with a few advanced features that gave it an edge over other service providers.
Another aspect which Juno nailed to perfection was customer support. Juno offers 24/7 customer support through emails and calls. This gave great superiority over its competitors which could not handle huge volumes of customer queries.
New-age entrepreneurs can develop a technologically advanced ride-hailing app with an efficient and ready-made Uber clone app solution.
Incentivizing drivers
It is true that customers are revenue-fuel. However, it cannot be denied that drivers contribute a lot in facilitating this revenue by providing the service. In addition to giving users an amazing experience, Juno also incentivized its drivers by paying more. The company is committed to paying drivers more than any other competitor.
Building a ride-hailing app platform
Initially developing an app like Uber or Juno is a challenging task as these corporate tech giants have invested millions of dollars on the app. However, starting up the development from scratch would be a humongous task. At first, make sure what type of ride-hailing app or platform you are going to create.
Innovative mobile app design
Once you are ready with what type of app you are going to create, you can go with the app designing part. When a user tries out an app all they initially see is the design of the app. So it is important to have an intuitive and interactive design for your app. The go-to step with designing is the wireframing, i.e, creating a basic frame of the app design. Then implement the user interface and user experience design.
Developing part
After designing, basically the front end and back end design need to be implemented. In the backend all the data required and the proper linking of user interface with the database will be performed. The frontend development simply here means the app development. Basically all the visual elements that the users are interacting with the app are developed in this part. Once the development is completed, the mobile app testing will be performed. Mostly the testing will be of two types, manual and automation testing. Based on the complexity, rigorous testing and various other different types of testing may be implemented.
In order to launch a ride-hailing app instantly, the new age entrepreneurs are considering the option of ready-made Uber clone app solutions.
What Can You Learn?
In establishing a successful ride-hailing business in New York, Juno has demonstrated a few important pointers for success. It is OK to start small and operate in a confined geography. It is important to ensure that the customer experience is top-notch. If the service provider is pampered, then the service-users will also feel satisfied with your services!
A company that plans to launch its own ride-hailing services in any geography can learn a lot from Juno. With the strategy for success in place, all you need to do is find a company like Appdupe that gives you the technical support to create a clone of Uber or Juno to take on the market and establish your business-profits!