Top 10 web hosting companies in 2020 | April 2020 (Detailed Review)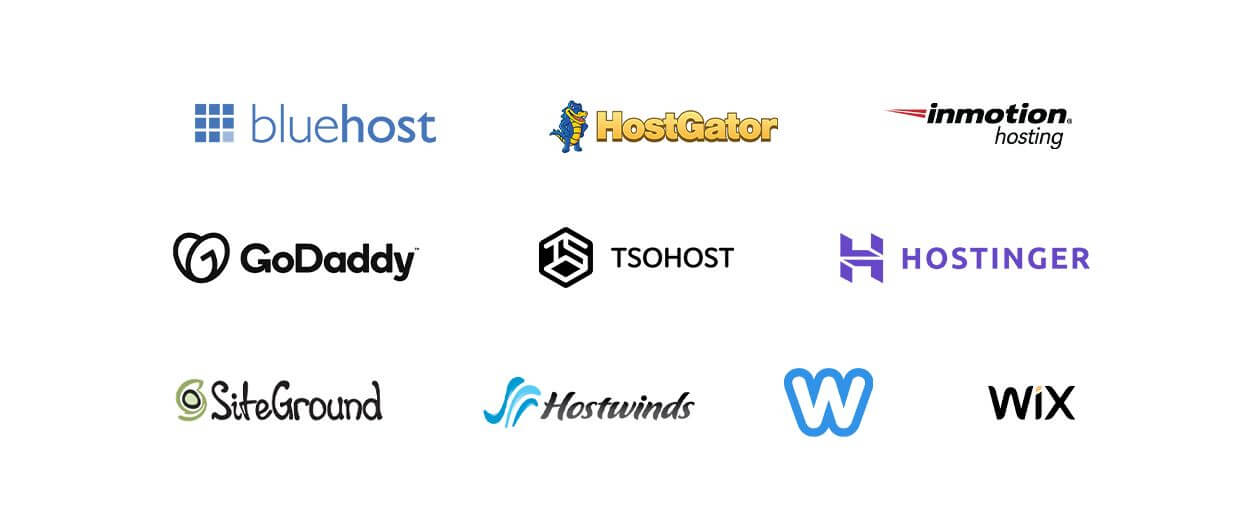 When we come to choose the best web hosting platform, there are lots of choices are available in the market. Each one of them is good and provides various levels of features, functionality, ease of use, and cost ranges.
But What are those factors, that we have to focus on?
How do we know which web hosting platform is the best web hosting for your website?
What are the major points that we should keep in our mind to select the best hosting?
So let's started and see which is the best web hosting service provider companies are available in the market 2020.
The very first thing that we should to comparing the features with pricing & facility with other web hosting platforms. Also we should consider the type of website we have or we want to use such as blog, technology, eCommerce, products, health & much more.
So, if you want to choose the best web hosting plan, you should focus on the 3 most important factors of the hosting company.
Speed – also known as "load time"
Uptime – needs to be at least 99.94%
Customer Support – Free and paid
All these factors will help you to find best web hosting service.
If you have great traffic on your website with thousands of page views and good number of visitors, every web hosting platform is best for you and will work smoothly.
But if you are a beginner or want to setup your business online, then you should to select the ideal host that will help you to website speed, security attributes, bandwidth, simplicity of usage and integrations according to your site requirements also will save money.
Best Web Hosting Service Provider Platform in 2020
BlueHost
HostGator
Inmotion
GoDaddy
TsoHost
Hstinger
SiteGround
HostWinds
Wix
Weebly
Summary of Top 10 Best Web Hosting companies with pricing in 2020
Let's explain one by one!
If we talk about the best web hosting in 2020 then I'd recommend to Bluehost. It is the all-time favorite of everyone. BlueHost hosting system Its using a free domain name, and provides free SSL contained, 1-click WordPress setup, FTP and 24/7 customer service.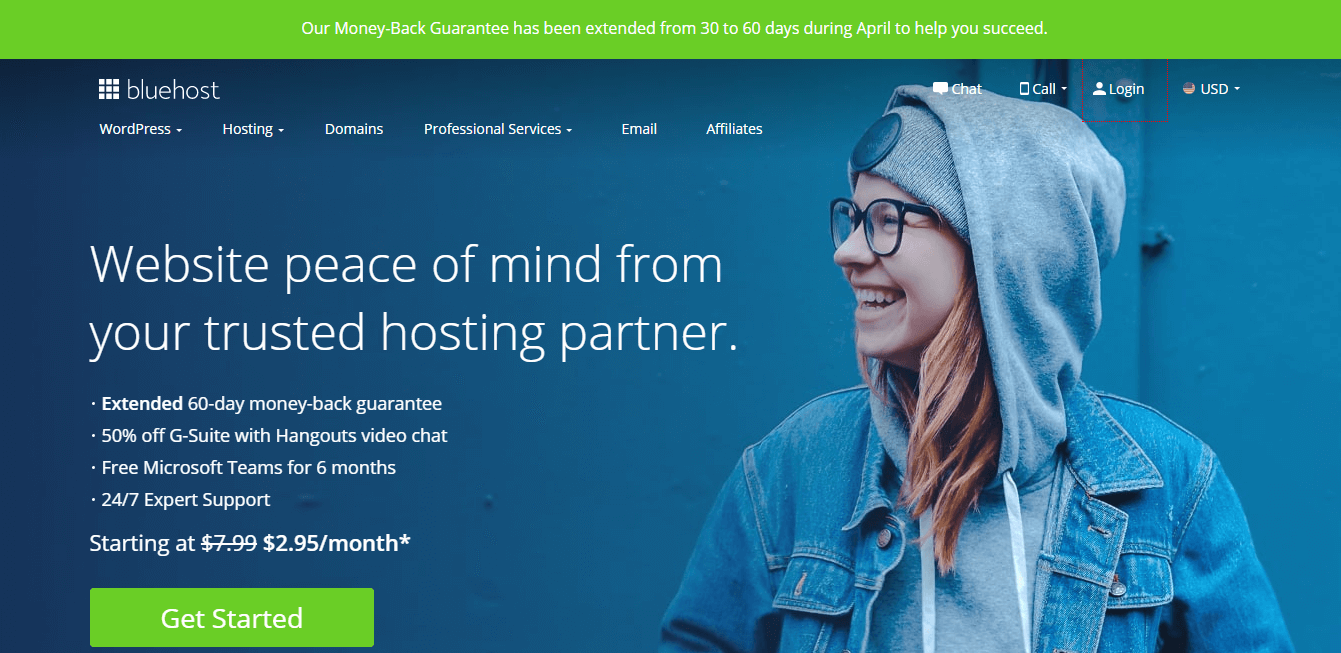 One of the best things of this web hosting is a user interface and also allows you to register, you can easily select your domain by doing one-click set up of WordPress even you can choose your topics and can create own website.
Bluehost offers different types of web hosting plans for all budgets & price. Bluehost is one of the Best WordPress Hosting Providers. Great uptime and very short loading times mix well with a well-rounded hosting package at a reasonable price.
If a client needs shopping cart software or e-commerce performance, installing applications is simple. It's a good choice.

BlueHost Features
Speed: 405 ms
Uptime: 99.99% uptime (January 2020)
Customer Support: 24/7 phone and chat
Plan: Starting at $2.75/month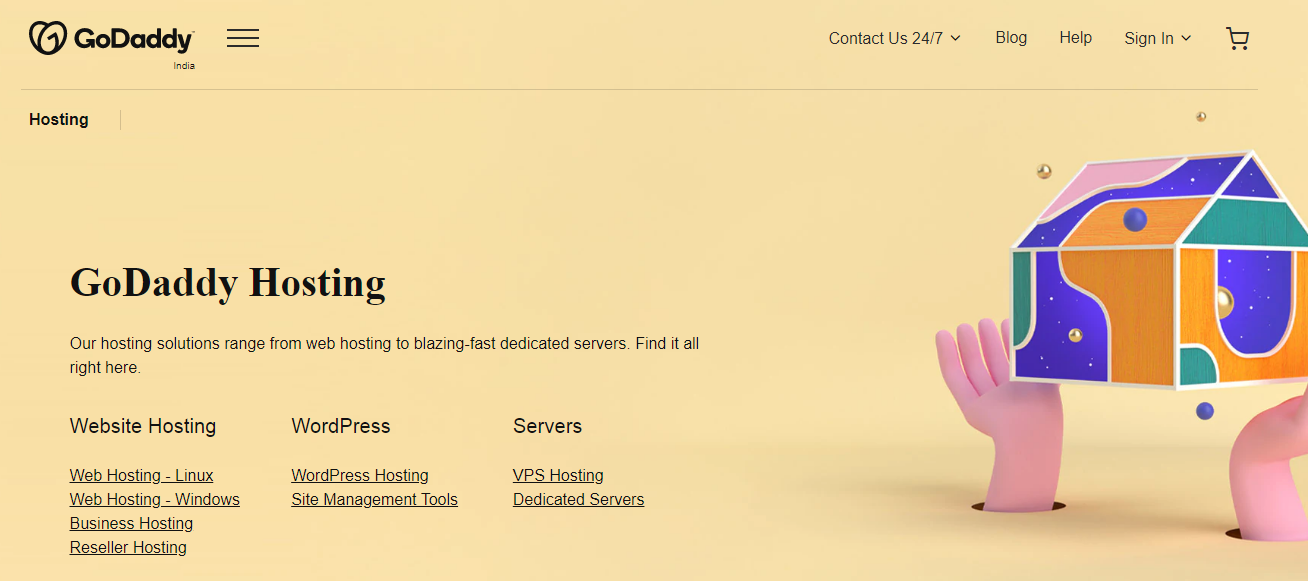 GoDaddy is one of the largest domain hosting companies and best web server hosting company out of the world. I
t is the largest Domain Name Register, GoDaddy offers free backup and restores, free Microsoft Office 365 Business Email for one year with Free domain, site builder and SSL certificate, Speedy service, Automated setup for WordPress, cPanel-powered Linux hosting, Web Hosting – Windows, VPS Hosting, Fast Loading Time, Unlimited Disk Space and Unlimited Bandwidth.

GoDaddy Features
Speed: 554ms
Uptime: 99.97%% uptime(January 2020)
Customer Support: Limited live chat support
Plan: Starting at $2.02/per month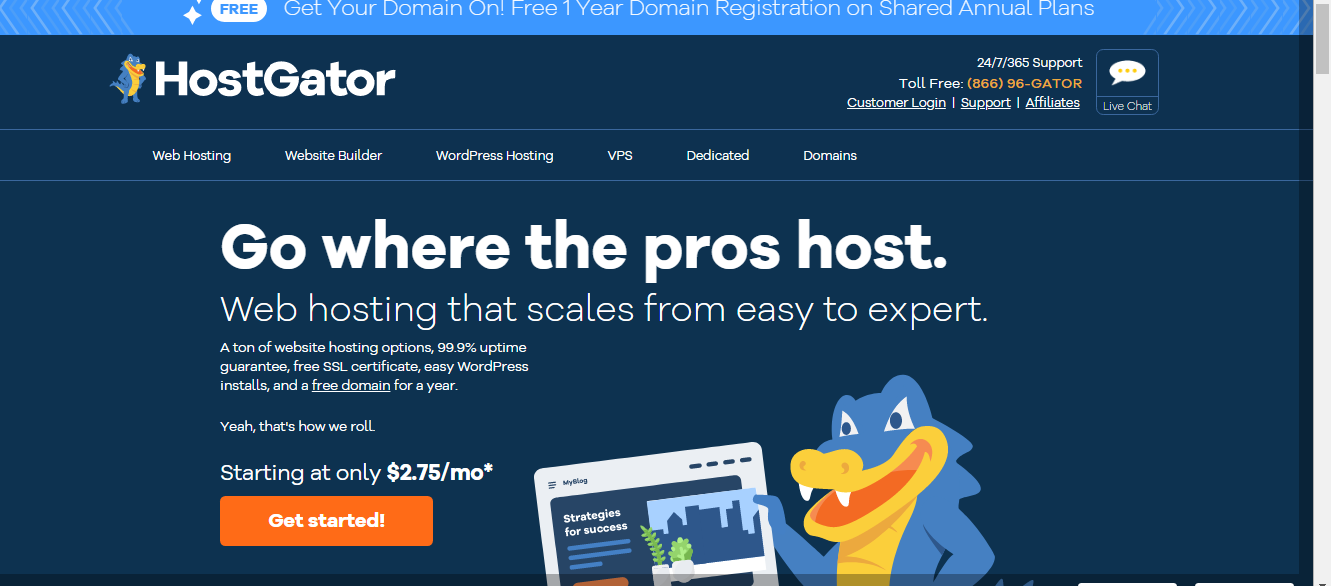 HostGator Cloud can be much faster but HostGator still in top 10 Server and Domain Hosting Companies in 2020. It is very Affordable and feature-rich, it is a host who is always trying to reach the potential customer.
Its provides unlimited storage & bandwidth, Free Website, Domain, MYSQL & Script Transfer, Free SSL Certificate, Live Chat, and Ticket System, Up to 2.5x faster servers, Global CDN, Daily Backup & Restore, Automatic Malware Removal (HostGator's Managed WordPress Hosting only).

HostGator Features
Speed: 691ms
Uptime: 99.9% uptime(Feb 2020)
Customer Support: 24/7/365 support
Plan: Starting at only $2.75/month

Hostinger is best web hosting company because of its speed and cost. By utilizing free hosting websites, you can learn how to construct free WordPress websites and turn your skills in precisely the same moment.
Hostinger is great for learning purpose. It is perfect to learn how to construct free WordPress websites. They have a super knowledgeable 24/7 multilingual (20+ speech ) Customer Success group. Hostinger is the quickest web hosting services that provide normal page load rate below 200 ms and guaranteed uptime of 99.9%.
Hostinger includes a habit, easy-to-use dash — CPanel. Its design is clean and simple, and acknowledged all, what you will need while constructing a website. Furthermore, they are conducting a huge sale offering free SSL certificates and domain names.Hostinger gives a free WordPress website using 1-click set up so you can start your blog without paid at the moment.
Hostinger Features
Speed: 350ms
Uptime: 99.95% uptime(Feb 2020)
Customer Support: 24/7 Live Chat
Plan: Starting at $0.99/mo(renews at $2.15/mo)

Hostwinds is another affordable and best web hosting provider company. They offer three web hosting plans and their pricing starts at $3.29/mo.
Its the cheapest models have a quad-core single processor and start with at least 8 GB of RAM. Provides free domain, site builder and SSL certificate, Unlimited Subdomains, Auto-Installer, No control panel as standard, Dedicated web hosting, Unlimited Email Accounts, Free Website Transfer, Worldwide A+ speed.

Hostwinds Features
Speed: Speeds up to 500% faster
Uptime: 99.95% uptime(Feb 2020)
Customer Support: 24/7 Live Chat
Plan: Starting at $3.29(renews at $2.15/mo)

InMotion hosting server is not the greatest but it's a higher services company in top domain hosting companies.
In Inmotion, WordPress is pre-installed, unlimited bandwidth/storage, unlimited email accounts, it provides both cPanel and SoftCullus panels with its hosting.
It's a worldwide A+ speed. We guarantee 99.9999% uptime so that your site is always ready to wish your visitors the best. Its free domain for 1 year, site builder and SSL certificate, 90-day money-back guarantee, User-friendly yet powerful, Basic website builder included, Malware + Hack Protection, Host unlimited WordPress sites on a single account.

InMotion Features
Speed: 767ms
Uptime: 99.95% uptime(Feb 2020)
Customer Support: 24/7 Live Chat
Plan: $3.99/mo($7.99/mo at Renewal)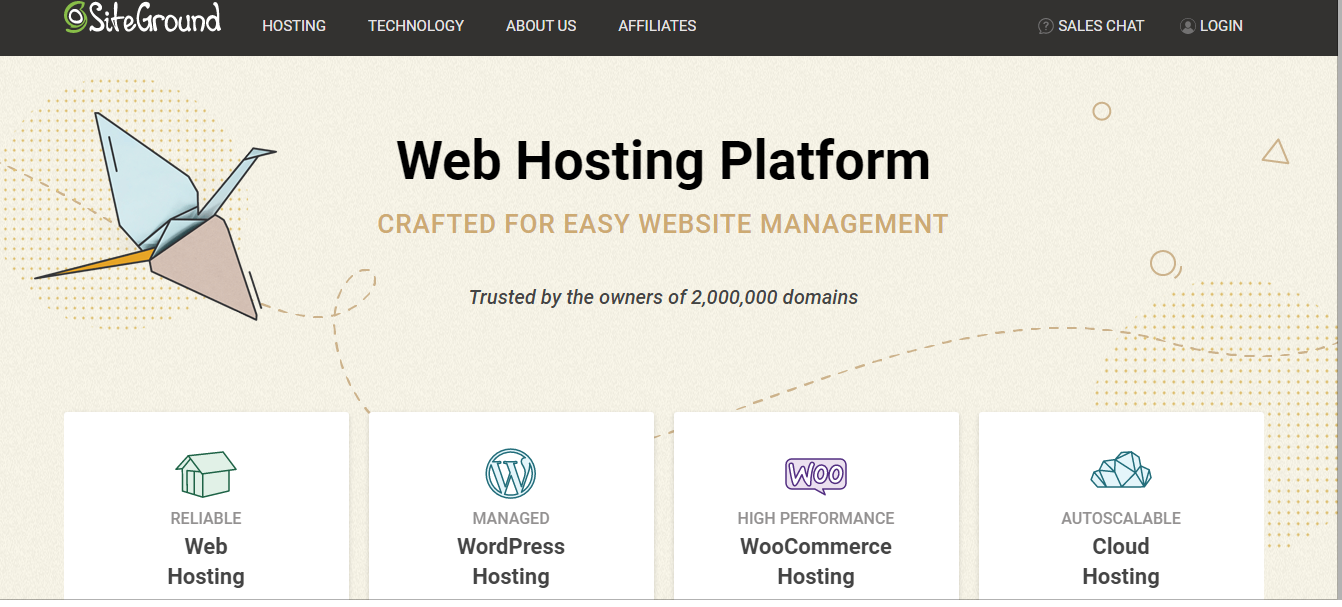 SiteGrund is one of the best hosting services and provides Google cloud servers, free https (SSL), free email, Worldwide A+ speed, SiteGrade's reseller plan is a bit more ambitious.
Each user gets 10GB of disk space and cPanel site management and has unlimited bandwidth, email addresses, databases and FTP accounts. Free domain and site builder and SSL certificate, Free Drag and Drop Site Builder, 30-day money-back guarantee, Basic website builder included Advanced On-demand Backup (Not available in StartUp Plan.
The proprietary WordPress caching plugin, unique server architecture and extensive knowledge base make it ideal for newbies and advanced users. Throw in Mix Dedicated Server Resources and you get yourself a premium service at an attractive price.

SiteGround Features
Speed:629ms
Uptime: 99.98% uptime(Feb 2020)
Customer Support: 24/7 Live Chat
Plan: $3.95/mo ($11.95 at Renewal) (Not available in StartUp Plan)
TsoHost is perfect for bloggers & businesses and affordable price for new entrepreneurs. If you have just started your business then this is right for you or And it includes its location in the best domain hosting.
Worldwide A+ speed, Fast, Responsive Support, Free domain and site builder and SSL certificate, 60-day money-back guarantee, One-click install, Superior speed, cPanel web hosting, Free domain, One-click install, Server solutions, Free domain.

tsoHost Features
Speed: 552ms
Uptime: 99.85% uptime(Feb 2020)
Customer Support: Limited Phone Support
Plan: Affordable from $3.99/mo ($11.95 at Renewal)

You don't have to worry about web hosting, Wix offers free and secure hosting for every Wix website. All you have to do is create your site! This includes 500MB of storage and 500MB bandwidth.
Your site comes with a free domain and affordable price. It provides a 14-day money-back guarantee, 99.9% Uptime. The Wix gives you the golden chance to fulfil their dreams.

Wix Features
Speed: Average It maintains 85% to 90% speed
Uptime: 99.9% uptime(January 2020)
Customer Support: 24/7 Live Chat
Plan: Price $6.80 per month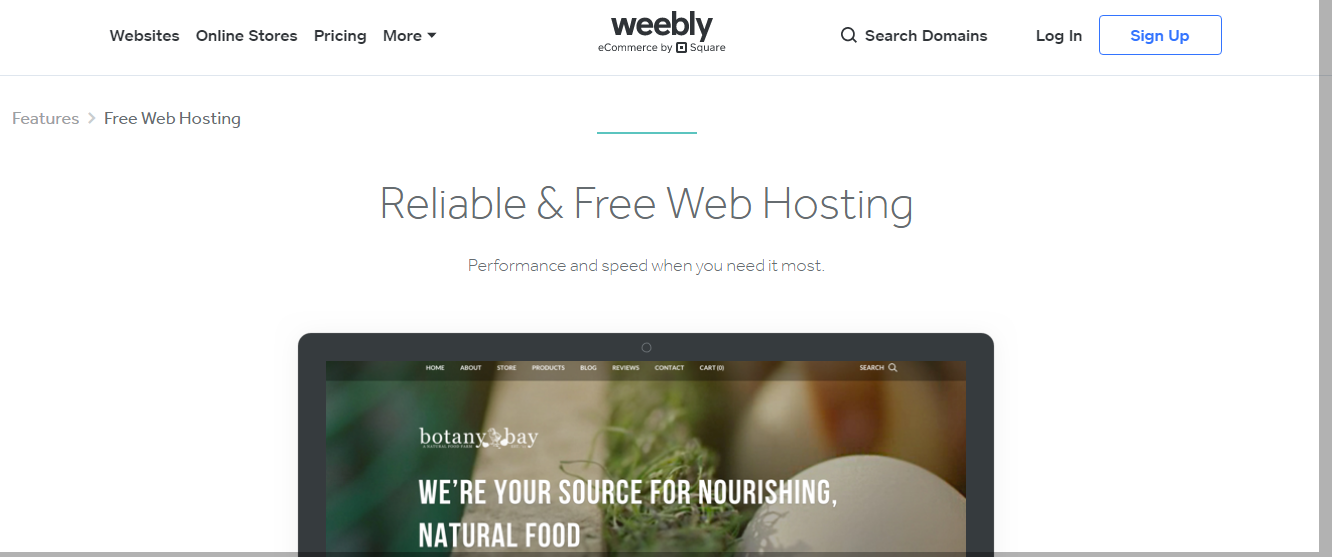 Weebly is another giant in the website creation arena, and it also gives you a free plan option – limited to 500MB of storage. You will also find advertisements on your site, so if you want to get remove awful ads.
Weebly, allowing you to build a high-end web store with support for coupons, Fast Load Time (432ms) Free Site Transfer and One-Click Install Unlimited Email Accounts, Free domain and site builder and SSL certificate, 30-day money-back guarantee, Stylish website templates, 30-day money-back guarantee, Stylish website templates.

Weebly Features
Speed: 432ms
Uptime: 99.9% uptime(January 2020)
Customer Support: 24/7 Live Chat
Plan: Price $6.80 per month
What are the different types of web hosting?
1. Cloud hosting
Cloud hosting is a new type of hosting that uses a network of virtual servers that store your files in the cloud instead of a server. This type of hosting is great for security and for reducing DDoS attacks, as many servers and entry points are much harder to hack than a single server.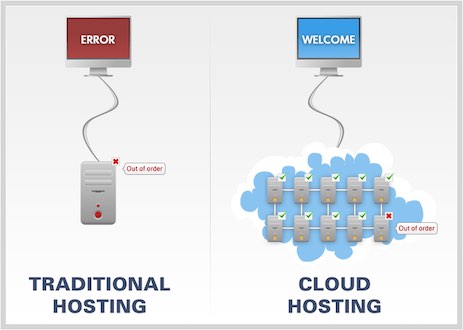 Source: skysilk.com
Cloud hosting plans are pay-as-you-go – since they are virtual when they are not in use, as they are not taking resources. Another advantage of this pay-as-you-go model is that you can easily upgrade your services at a specific time if you expect an increase in traffic.
One advantage of cloud hosting is that you can add more virtual server resources to your website as your traffic increases. This flexibility allows you to increase your online business bandwidth incrementally.
For example, if you use shared hosting and your server goes down, your website is completely out of luck. However, with cloud hosting on multiple servers, if one server fails, your site will not go down.
2. Shared web hosting
Share web hosting is the point at which numerous websites live on one server. This type of hosting is one of the most well known and cheap options out there, the greatest number of locales can share server assets claimed by the web host.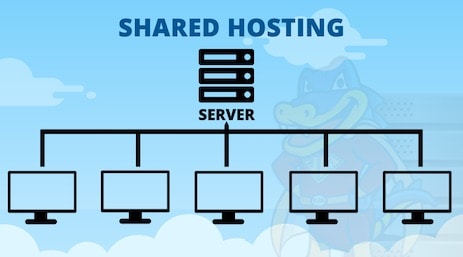 Source: hostgator.in
One downside to shared hosting is sharing of resources. A website on the same server on which you are getting a ton of traffic and overloading the server can slow down your site. The server may not have unlimited websites – security measures exist against it, but still, it is one of the slower options due to shared resources.
This type of hosting is great for new websites that do not have a ton of content.
Since this hosting is on the server with other websites, and you share limited resources, performance can suffer. However, you should not pay too much attention to the decline in improvement as a new site.
Shared hosting can cost anywhere from $ 2 to 30 per month.
3. VPS hosting
VPS hosting means virtual private servers.
While taking advantage of VPS hosting, a server acts like a series of separate servers. With VPS, you get a dedicated segment of shared server resources, so your hosting is not affected by other sites on your server. So you get your server location, and there are some other websites sharing resources.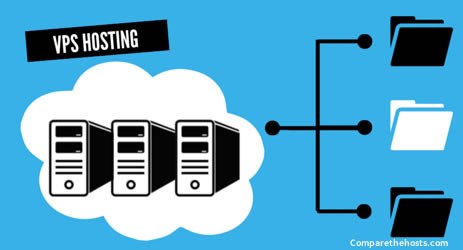 Source: computehost.com
4. WordPress hosting
WordPress offers its own hosting, and you can set up your website and domain at WordPress.com. However, it is a stripped-down version of WordPress without the ability to add specific plugins, themes, or more-in-depth settings that you need to make a great website.
Typically WordPress sites are faster than shared hosting due to their basic integration and expert support teams.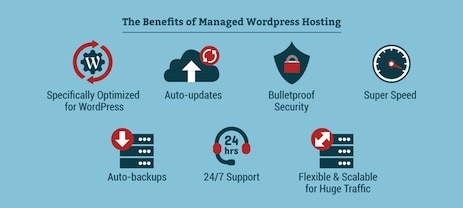 Source: bitcatcha.com
WordPress is also working with other platforms such as BigCom to further enhance its e-commerce functionality. 39% of e-commerce merchants reported that they have recently lost money due to performance or stability problems. Combining the front end functionality of WordPress with the backend power of an e-commerce platform is an excellent option for scaling growth.
WordPress hosting can cost anywhere from $ 5 to 100 per month.
5. Dedicated server hosting
Dedicated server hosting is the process of leasing an entire server and managing all your web hosting yourself. If you have an important website for a large organization, this high cost option gives you the most control over your hosting.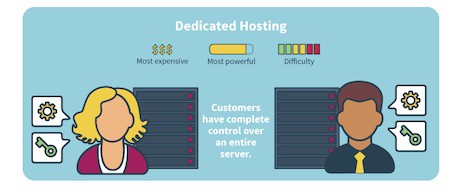 Source: milesweb.com
With full control over your server, you can install highly complex programs, scripts and applications that are not possible with shared hosting. One drawback is that if you do not have the technical knowledge to manage and run your server, you may run into issues. You will either have to suffer website downtime or hire a specialist to fix your problems for you.
Dedicated server hosting costs $ 120 per month or more.
6. Reserller web hosting
Affiliate programs permit designers or advanced offices to exchange white-marked hosting on the plans that they possess. For instance, on the off chance that you have ten customers, you can purchase a high-level hosting bundle, and afterward exchange hosting to your clients at a month to month fixed expense.
Organizations like Siteground and WP Engine offer affiliate plans, which normally incorporate an administration board, charging programming, and mechanized reports.
The cost for affiliate hosting is around $20-75 depending on features and bandwidth.
7. Colocation web hosting
At the point when you colocate, you lease space from server farms. You have to give your server equipment, and they give security, cooling, power, and an Internet association. Notwithstanding paying for rack space, you additionally pay for your transmission capacity use every month.
Due to the specialized information required, the chance of website personal time if something turns out badly, and significant expenses, colocation web hosting isn't suggested for fledglings or private companies.
8. Ecommerce hosting
In case you're dealing with an online store, you can pick any number of e- commerce business stages like BigCommerce and Shopify.
These different self-hosted stages will host your whole site for you. Moreover, in case you're utilizing WordPress, you could pay for an authority hosting site like Hostinger and afterward include an online business module like WooCommerce or BigCommerce for WordPress.
Web based business hosting is a choice offered by hosts like WP Engine that enables your webpage to sell on the web.
Here's we can see when choosing an e-commerce host:
Shopping cart software
PCI compliant servers
SSL and security to handle transactions
Customer databases
Low downtime, as you never want to lose out on revenue
Fast server response times
What is the fastest website hosting?
Speed is a basic factor when picking your favored hosting plan. You may discover an averagely quick hosting service that handles your customary traffic well, however what occurs in the event that you hit a most loved day and your traffic spikes? Not all hosting plans can deal with that well. Along these lines, it assists with seeing a few factors when picking the quickest hosting.
Your viewers is an imperative determinant as they directly affect the speed. Traffic spikes can cause your site to go down if the server limit can't deal with the numbers. Along these lines, consistently pick a hosting plan that can deal with your traffic even at top traffic levels.
The server location is something else that influences speed. Frequently neglected, a CDN ensures that the server you select is near the crowd's general area. Going for a less expensive alternative that is on the opposite side of the globe will influence your site's speed.
Ignore Free Web Hosting
Just about everyone, free hosting is not worth it.
Web hosting is not where you should save money. If you are concerned about the cost of hosting, I say that you need to worry about revenue and traffic before trying to save the cost of hosting by cutting a few extra dollars.
A free host is only good for something like an event-pager or a very small, extremely low-traffic site. If you're doing either of those things, you should still skip the free host route and jump straight into a free website builder that lets you link your site to a custom domain for free, such as UCraft or Google Sites . They are both very limited builders, but they are easier to get up and running than independent web hosts.
That being said, there are some great free and discount web hosting plans for nonprofits and teachers. If you and you want to know more, then visit my best free web host review. I go into great detail there.
Final Say
When you are planning about your business, there are so many priorities are there. But deciding the best hosting is always tough for any kind of business either small or big. If you decide on a less reputable supplier, your website may return or may you will be facing the issue about hosting.
That's why, here is need to select the perfect one according to your requirements and should concentrate on three important areas that are safety, reliability and cost.