10 Exclusive Mobile Trends are more Valuable in 2020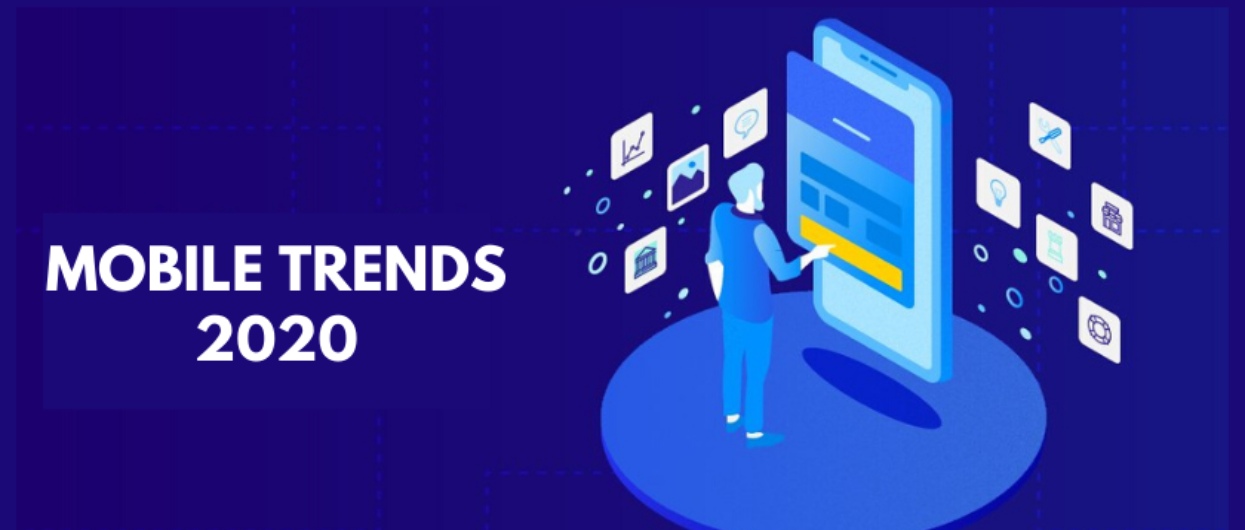 This is the generation of Internet browsing on Smartphone. The shifting of accessing the internet on laptops and desktops to Smartphone is like a swift. The mobile application makes this facility more inevitable. Actually, we are all blessed by the mobile application development company, who is unbelievably contributed a lot of notable changes in it.
According to Hootsuite and Global Digital Report, we are recognized socially. In the last year, the Smartphone users in the worldwide extended 5.135 billion. Moreover, a study reveals that the in 24 hours a man would like to spend 6 hours in browsing the Internet.
It is all the undeniable charisma of mobile app trends. You may have noticed that no traces are there of slowing down this trend as people are highly satisfied with this!
Mobile application trends now become a culture, with which people of all ages are already accustomed. According to current status, Statista has concluded that mobile app future trends are expected for generating global revenue of $188.9 billion.
You might have heard about improvisation of Mobile Web through mobile browsers, and HTML5 standards. But the fact is the Smartphone, especially iOS and Android, are reigning the generation.
In the last year, we ceased to find any relevance of Firefox OS, Tizen, BlackBerry, and Mobile Windows. But we must agree that we have believed on the Smartphone because of the mobile applications.  They just won our hearts with its varied practical functionalities.
So, here we will discuss what trends in mobile technology are coming surprisingly with this New Year. Let's have a look.
Chatbots
This generation is designed with self-dependency and people love to do that! Keeping this point in mind, Chatbots are being improved for its functioning as the virtual assistant in the Sales Applications. It is going to be one of the most vital mobile phone trends 2020.
It will be the solution to the customer to contact directly with stores. The Statista expects that this will increase the market value of Chatbots will be the billion dollars this year.  It will be designed in such a way that its absence seems like bizarre. Its quick integration will also be developed for existing applications as well.
Related: – Now these Users of Paytm will be Able to get a Credit Card
Mobile wallet and payments
Gradually along with the passing years, our shopping techniques are transforming! First, cash gets converted to credit and debit cards; and now it is the time for cryptocurrencies and mobile wallets to rule. Online shopping is the best mobile phone trend one can ever experience.
Therefore, for us, a solution like Google Pay is there. It helps you to pay for your purchasing item more safely. We must thank the developers who have brought such a solution for us. So, it is expected that the value of this option of making payment will definitely touch 503 Billion Dollars.
Augmented Reality
You know that this is the 3D generation and we all love to watch and experience 3D. For common people like us, affording VR goggles is not an easy job. So, don't get disappointed as mobile app developers have already set off to provide you with the biggest surprise of 2020, i.e., AR (Augmented Reality).
This mobile app will be developed with the technology of VR to provide you exact 3D experience. Don't you think that it is going to create a blast in mobile app trends 2020?
Multiplatform Development
We often dream about iPhone, not we? But, there is only a few who are lucky enough to have one. It's so because not all of you can afford money for two separate software iOS and Android.
Keeping this point in mind, developers want to develop such applications with which you will be able to get 2-in-1. It is clear that it will be definitely the most challenging mobile phone industry trend. But surely, it will meet the demands of the people who truly need this.
Machine Learning
Artificial Intelligence doesn't only mean to develop the Chatbots. There are other functionalities as well need for improvement. Mobile app development trends 2020 effectively deal with these issues for a highly personalized user experience with a huge bulk of data capabilities.
The solution will be provided through decision support, image recognition, and speech recognition.
Instant apps
Often, we hear that the Smartphone is running out of sufficient space. For this you have to delete some existing apps and files, right? Instant apps are playing a crucial role in changing the trend of the mobile app since 2017.
This will, of course, save the memory space of your phone. Do you know that Google Pay can be used directly without even installing it? It's amazing, nah? Similarly, developers are trying to bring this revolution as the trends in mobile marketing of 2020.
Escaping from ecosystems
FaceTime was the high trend of 2018. It is only available in iPhone and thus Android users cannot connect to iPhone user with this! Thus, mobile developers especially Google and Apple are in a war. Who can offer better FaceTime?
Though Google Duo is supported in iPhone and data transferable can also be enjoyed with its apps, Apple has no such facility. So, the challenge is to produce such apps which will be supported on both iPhone and Android.
Security of Mobile app
There are many apps like Google, Uber, and Facebook have already admitted the lack of security. Have you ever wondered that these popular apps can hack your personal details? Developers have believed that the security is the future of mobile apps 2020. Thus, they start focusing on it more this year.
Beacons Technology
Some of you may hear about the Beacon Technology, but in 2020, this will be the trends in apps. For this, we have to keenly wait for the introduction of beacons mobile payments, personal automated beacons, and beacon-enabled airports.
Beacons technology will improvise the apps to make the sharing of personalized information and virtual guiding smoother than ever.
Influencing Mobile UX/UI
Get ready to witness the advance of AI in the major apps like Google and Facebook in 2020. It will be the greatest future mobile trends for which we are waiting for long. Implementation of AI for these giant apps enhances the journey of customers smooth through their UX/UI of the apps.
Conclusion
So, can't wait for these trends, huh? Keep patience for some time as mobile app development platforms are already set to launch these trends in this year only. These are surely going to rock the future mobile application trends with superb user experience and unexpected market value.