Accept these 9 Cool Tips to Stay Healthy this Summer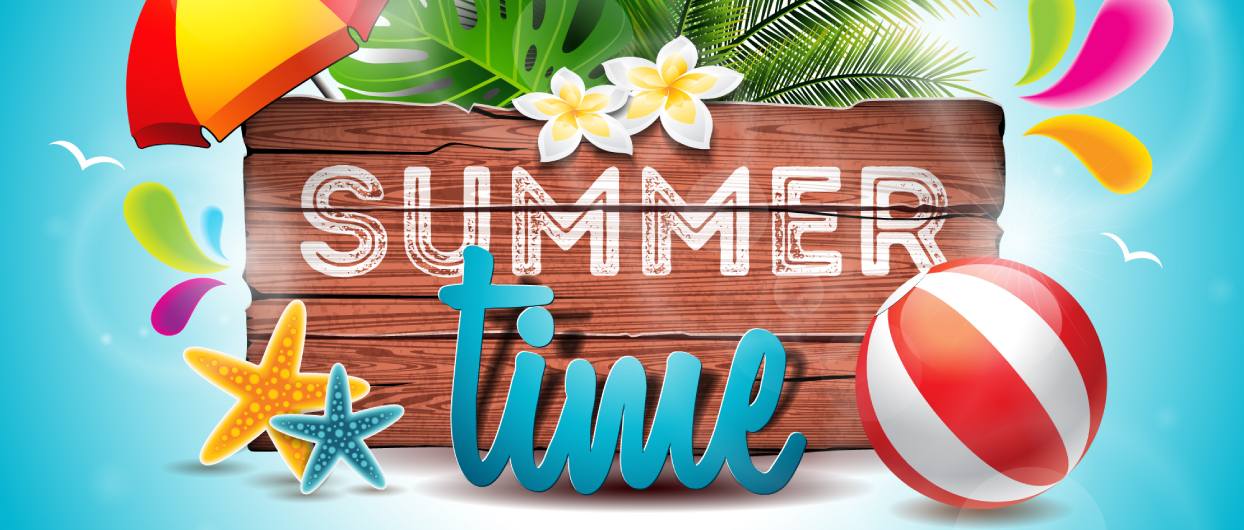 Yes, Summer have inward guys and of course many peoples are worried about their health and also set some outdoor plans for themselves, kids are also worried because their schools are shuts and enjoying time start, they have also their plan for summer vacations and they want to enjoy in sand and in water.
They want to go on a vacation and for them it's time for outdoor activities like cycling, gardening, yard twister, Bean bag Ladder Tags, Hula blockers, Sand play on budget and much more.
Summer is the perfect time to focus on your health and wellness. Prepare your exercise plan and diet chart to stay healthy this summer. You need to take proper care of your skin and hair too.
Summer means lots of heat, lots of sweating, dryness, skin problems like tan, sunburns, pimples, heat rashes, marks, acne and much more. Summers have arrived and so are the extreme effects. With the passing time, temperatures have been going unbelievably high and it is affecting our health.
Burning heat affects us in the form of heat stroke, burn, dehydration, etc. Restore and refill your skin and physical health as we suggest some amazing healthy tips to survive the boiling summer this year.
In this summer how to Stay Healthy, Below I will tell you some cool tips and accept these cool tips in your summer plan to stay healthy this summer:
9 Cool Tips to Stay Healthy this Summer
1. Keep yourself hydrated
We all know how important it is to stay hydrated, especially in the heat or summer. Water is strictly important during the summer when dehydration is at greater risk. It helps rehydrate your body and helps it function better.
Drink lots of water, at least two to four cups upon rising in the morning, and similar amounts for your activities and exercises. we need two to three quarts of water per day, and more in summer or with sweating and exercise.
Make sure you gulp down 8-10 glasses of water and ensure a well hydrated body. Do not drink extremely chilled water as it will only cause disorder on your health.
Always carry a water bottle and if you have desk job, always keep one at your desk
When you're feeling frazzled or hazy, grab a glass of cold water
You may also carry a traveling water filter with yourself
Try not to drink excessively, because it's brought over hydration. It can prompt an issue called hyponatremia (low blood sodium)
2. Have a healthy and lighter diet and take a seasonal fruits and vegetables
Maintain your healthy diet and eat seasonal fruits and vegetables habitually. Consuming foods that are cooling and light (fresh fruits, vegetable juices, salads, and lots of water) will nourish your body in summer. Your meals should be light to stay healthy this summer.
Avoid heavy stuff in your meals like fast food, junk food, etc. Heavy food is difficult to digest and makes you lazy and increases your cholesterol which affects your health badly in summer. It is good to have lighter meals rather than having heavy meals, especially at night.
These days most vegetables and fruits are available all-year-round. However, consuming seasonal foods have their own charm and health benefits. Always picks freshly collected foods to extract best benefits they have to offer.
Load up on mangoes, plums, tomatoes, berries, watermelon, oranges, celery, sesame, coconut water, cucumber, mint, fennel seeds, and all seasonal green vegetables eat all to stay healthy this summer.
Also read: Why Breakfast is Must Include in Your Daily Routine
3. Have all nutritional supplements
Proper nutritional supplements can support you with a greater amount of physical energy, increase your summer activities. The B-complex vitamins are relaxing to the nervous system and quite helpful for cellular energy production and the other antioxidants protect your body from stress, chemical pollutants, and the biochemical by-products of exercise.
Include some protein with one or two meals in your diet to stay healthy this summer.
4. Choose healthy drinks and must eat your breakfast
To get hydrated we drink water but only water is not sufficient for our body, to stay healthy this summer we have some sips of other cool and healthy drinks as like plain water with salt and sugar, coconut water, water with lemon and cucumber slices, organic and decaf iced tea, herbal tea, rooibos tea, iced coffee, watermelon juice, sugarcane juice, pineapple juice, mix fruits juice etc.
But without breakfast in the morning, the body can wilt in the summer and possibly lead to heat overexposure, dehydration, or fainting. Eating a healthy breakfast can prevent these risks, balance blood sugars, and increase energy levels to kickstart of the day.
A morning meal should be balanced with protein, healthy fat, and fibre to stay healthy this summer.
5. Have a proper skin care
The skin should be properly moisturized in the summer. For complete dry skin, you can also use cream moisturizer. Face or skin should be properly washed in the summer to protect it from the heatstroke and dust particles.
Applying sunscreen to protect our skin from damaging UV rays. Make it the first thing on your list when getting ready for your outdoor activities. This task should be done 3-4 times a day.
Use cool face mask for your face as like cucumber mask, watermelon mask, papaya mask etc. For dry skin, use a gentle scrub to exfoliate, before you bathe to stay healthy this summer.
Also read: Coronavirus - Symptoms, Side-effect, Treatment, Truth & Myth
6. Protect yourself from overexpose and Choose cool outfit
Aerobic activity is very important for keeping the heart strong and healthy. You should do a lot of inhaling and exhaling, and do light exercises regularly. If you only work out in a health club or gym, take some time to do outdoor refreshing activities.
This will help you increase your energy levels to stay healthy this summer. Take a cool shower twice a day and wear lightly shaded and loose-fitting clothes, when you plan to go for outdoor activities.
Dark shaded tight-fitting clothes, it absorbs heat and you feel like, you are enveloped by warm cover and also carry a hat with your hand bag.
7. Avoid Over-Intoxication
Everyone wants to have a good time in the summers but there should be a limit to have alcoholic drinks when going out with friends. Over-Intoxication can affect your health badly.
Drinking alcohol in the sun can dehydrate you, because of sweaty and urinate more. So, drink less when you enjoying fun with your friend and family members to stay healthy this summer.
8. Travel light
Making sure the essentials are packed is common before you go for travelling. Packing light can prevent injuries such as strains, pulls, and tears. If packing more for a long trip, use proper techniques for heavy lifting.
Bend at the knees, and use your leg muscles, and avoid twisting or rotating your spine to stay healthy this summer.
Also read: Understanding the Basics of Assessing a Patient for Kidney Transplant
9. Protect yourself from wound and injuries
Due to more physical activities and in playground and around the pool, the chance of getting injuries increase. While playing or doing some activity, you and your kids should wear the right protective equipment to prevent wounds and injuries.
Keep your first aid kit or any other ointments, pain killer spray, etc to stay healthy this summer. This is important because, injuries and wounds are badly affected by the sunstroke, humidity, etc in the summer season.
Final Word
These are the 9 simple tips to stay healthy this summer. Follow all of the above tips to stay calm, fit, cool and healthy in this season. Enjoy this fabulous time of year with all the benefits.
By being watchful of the new behaviours you create to stay healthy this summer and the benefits they bring to you will help to tolerate them during the year to come.